What you need to know:
Register today for the National Anti-Hunger Policy Conference, March 16-18
During the week of February 1, the House and Senate adopted a budget resolution that will allow work on President Biden's $1.9 trillion COVID-19 relief plan to proceed through budget reconciliation, a procedure that fast-tracks action and Senate adoption with a simple majority. On February 10, the House Education and Labor Committee and the House Agriculture Committee approved their portions of the reconciliation package, which include critical nutrition provisions. Read FRAC's Priorities for the Current Budget Reconciliation Bill, S. Con. Res. 5 to learn more.
On January 22, President Biden signed executive orders, which, among other things, ask the U.S. Department of Agriculture (USDA) to take steps to strengthen the Supplemental Nutrition Assistance Program (SNAP) and Pandemic EBT (P-EBT). Check out FRAC's statement for more information.
On December 27, the Consolidated Appropriations Act, 2021 was signed into law. The appropriations and COVID-19 relief package provided an immediate and essential downpayment on nutrition and other critical assistance, including boosting the SNAP maximum benefit by 15 percent through June 30, 2021. Check out FRAC's statement and Action Center for more information.
School Meal Waivers: On October 9 USDA announced the extension of critical waivers which will allow the continued operation of Summer Food Service Program and Seamless Summer Option through June 30, 2021. On September 21, nearly 1,400 national, state, and local organizations signed on to a letter asking USDA to extend all child nutrition waivers through the rest of the 2020-2021 school year.
Explore how you can leverage Federal Nutrition Resources for Disaster Recovery during COVID-19.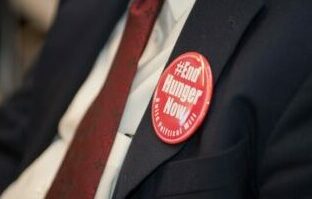 National Anti-Hunger Policy Conference 2021
This year, the National Anti-Hunger Policy Conference is going virtual to allow thousands of anti-hunger advocates from all across the country to safely and conveniently attend from home. You will hear from officials from the Biden-Harris Administration and the new Congress and capture the energy and networking opportunities that are the hallmark of this annual conference.
Federal Nutrition Programs: Response to COVID-19