FY 2021 Appropriations

On December 27, 2020, the

Consolidated Appropriations Act, 2021

was signed into law, which provided FY 2021 appropriations and an immediate and essential downpayment on nutrition and other critical assistance for tens of millions of people across the country. The relief package boosts the SNAP maximum benefit by 15 percent for six months (through June 30, 2021), among other nutrition and anti-poverty provisions. Check out

FRAC's statement

for more information, as well as the Congressional division-by-division summaries of the

COVID relief provisions

,

appropriations provisions

, and

authorizing matters

of the package.

Stay up-to-date on the federal appropriations process through the Congressional Research Service's Appropriations Status Table.

Refundable Tax Credits

The Earned Income Tax Credit (EITC) and the Child Tax Credit (CTC) are critical anti-poverty programs and

should be expanded

. In 2019, the EITC and CTC together lifted about 7.5 million people above the poverty line, including 4 million children. Both of these tax credits are refundable, meaning that they can reduce a filer's tax burden to zero and any remaining amount is treated as a direct refund to the filer.

Income thresholds for the EITC are dictated by marital status and number of children. The amount of the EITC depends on the filer's income, the number of children, and marital status. In 2020, the EITC is worth a maximum of $6,660, but the EITC for childless workers is worth only $529. In 2021, thanks to temporary changes in the American Rescue Plan Act, the maximum for childless workers was increased to $1,502.

The American Rescue Plan Act also included a robust expansion of the Child Tax Credit (CTC) which is projected to cut child poverty nearly in half. The improved CTC will provide families with $3,600 per child under age 6 and $3,000 per child ages 6-17. This benefit is now available to families with little or no income who were previously excluded from the CTC benefit.

While this is great news, this expansion is authorized for just one year. Congress and the White House must make these program improvements permanent. President Biden's American Families Plan would, in addition to critical nutrition and other investments, make permanent the full refundability of the CTC to provide support to families who have been affected by the pandemic and for parents who have been forced to cut down on work or give up jobs to take care of children after losing access to child care.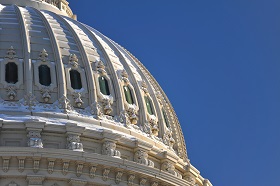 Did You Know?
Every year, Congress is supposed to follow a similar schedule of events throughout the budget and appropriations process. However, in recent years, this process has not always been followed — but the general schedule remains the same.