The National School Lunch Program — the nation's second largest food and nutrition assistance program behind SNAP — makes it possible for all school children in the United States to receive a nutritious lunch every school day. The vast majority of schools — approximately 95 percent — participate in the program, providing meals to more than 30 million children on an average day.
Quick Facts:
Nearly 22 million low-income children participated in the National School Lunch Program on a typical day in the 2017-2018 school year.
Nearly 97,000 schools participated in the National School Lunch Program in the 2017-2018 school year.
Any public school, nonprofit private school, or residential child care institution can participate in the program and receive federal funds for each meal served.
Meals served through the National School Lunch Program meet federal nutrition standards, which require schools to serve more whole grains, fruits, and vegetables.
The program is administered at the federal level by the U.S. Department of Agriculture (USDA) and in each state typically through the state department of education or agriculture.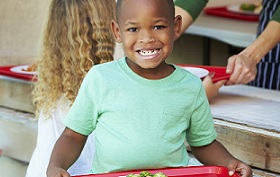 Reducing Barriers to Consuming School Meals
Too many students miss out on the important benefits of school lunch when barriers exist that prevent students from consuming all of their meal. This report includes best practices for school districts to maximize student participation and consumption in school meals.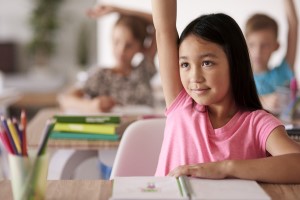 More Low-Income Students Receive Free School Meals in the 2018–2019 School Year Through Community Eligibility
Community Eligibility: The Key to Hunger-Free Schools finds that the number of schools participating in community eligibility grew by 14 percent compared to the 2018–2019 school year, with 64.2 percent of eligible schools participating. Nearly 13.6 million children in 28,492 schools and 4,633 school districts are participating and have access to school breakfast and lunch at no charge.
Benefits of School Lunch

Eligibility and Reimbursements

Community Eligibility Provision

Community eligibility allows high-poverty schools and districts to offer breakfast and lunch at no charge to all students. Schools that use community eligibility have seen increases in participation in school breakfast and school lunch and reduced administrative costs as community eligibility schools no longer have to collect school meals applications.

Find out more about the Community Eligibility Provision

.

Unpaid School Meal Fees

School breakfast and lunch provide students the nutrition they need in order to continue to learn throughout the school day. Students certified for reduced-price meals can be charged a maximum of 30 cents for breakfast and 40 cents for lunch, and those who are not certified for free or reduced-price school meals, generally are charged the cost of their meal. When students who are not certified for free school meals arrive in the cafeteria without cash in hand or in their school meal account, they can start to accrue school meal debt. School meal debt is a challenge for the majority of school districts — a recent school nutrition report found that 3 in 4 school districts had unpaid school meal debt. For more information on unpaid school meal fees, refer to these FRAC resources

Every Student Succeeds Act

The Every Student Succeeds Act (ESSA) offers important opportunities for anti-hunger advocates to increase participation in the federal nutrition programs, particularly the school, summer, and afterschool nutrition programs. These programs are critical education supports, ensuring that students are well-nourished and able to focus, concentrate, and learn. Increasing student participation in these programs can help State Education Agencies (SEAs) and Local Education Agencies (LEAs — more commonly referred to as school districts) meet the goals of ESSA.

ESSA Resources: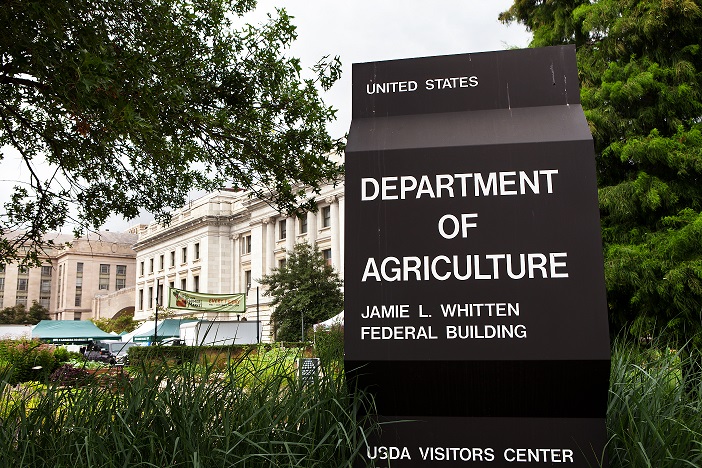 School Lunch in Your State
To find out the agency that administers the National School Lunch Program in your state, check USDA's list of state administering agencies.