Poverty, food insecurity, and poor nutrition have serious consequences for health and well-being across the lifespan. Fortunately, solutions exist to tackle these challenging issues, including increased utilization of the federal nutrition programs and addressing food insecurity in health care settings.
Quick Facts
People living in or near poverty have worse health outcomes and less access to health care than those who do not.
Food insecurity — even marginal food security (a less severe level of food insecurity) — is linked to some of the most common and costly health problems in the U.S.
The direct and indirect health-related costs of hunger and food insecurity in the U.S. have been estimated to be $160 billion.
Research shows that the federal nutrition programs alleviate poverty, reduce food insecurity, and improve nutrition, health, and well-being.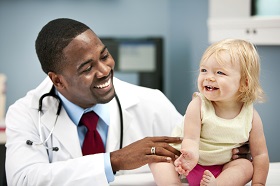 Hunger is a Health Issue
Learn how health care providers and community-based partners are addressing food insecurity in health care settings.
Recent Publications
The Role of the Supplemental Nutrition Assistance Program in Improving Health and Well-Being

Read more

The Connections Between Food Insecurity, the Federal Nutrition Programs, and Student Behavior

Find out more

Summer Nutrition and Enrichment Programs: Effective Tools to Support Child Food Security, Health, and Learning During the Summertime

Read more