A new research brief from Healthy Eating Research (HER), a national program of the Robert Wood Johnson Foundation, underscores why it is urgent for policymakers to enact SNAP benefit increases in the next COVID-19 emergency relief package. Steps taken in prior packages are providing a modest measure of help, but, given the magnitude of the crisis, are insufficient to provide adequate nutrition assistance to meet overall need and to spur economic recovery.  Now is the time to strengthen SNAP benefits.
Everyday there is new evidence of the depth of food hardship and economic dislocation.  States report SNAP application rates that are skyrocketing, often doubling or quadrupling.  Unemployment and underemployment data are escalating. Restaurants are among sectors that are particularly hard hit.
The Families First Act (C-2) that Congress enacted in March allowed for Emergency SNAP allotments during the duration of the public health emergency declaration.  USDA has applied a narrow reading to the statute.  USDA has limited the relief states can provide to supplemental payments that bring all SNAP households up to the maximum benefit levels. USDA's implementation has left nearly 40 percent of SNAP participants without any Emergency SNAP payments.  That is because the lowest income households on SNAP already qualified for the maximum allotment.  The CARES Act (C-3) enacted in April included funds to continue SNAP operations and meet anticipated increases in caseloads. C-3, however, did not increase SNAP benefit amounts.
Policymakers can and should build on these down payments by following the approach that proved so effective in the last Great Recession. The 2009 American Recovery and Reinvestment Act (ARRA) boosted the SNAP maximum benefit level from 2009 through most of 2013. As HER explains,  "This boost was associated with: increased food expenditures, mitigated declines in calorie intake, improved food security, and reduced Medicaid cost growth, especially for people with chronic illnesses with high sensitivity to food insecurity."
In addition, the ARRA boost provided needed stimulus to a struggling economy.  Each $1 of federal SNAP benefits during a downturn generates between $1.50 and $1.80 in economic activity.  As HER points out, the SNAP multiplier effect positive impacts extend to GDP, job growth, and farm income.
Join FRAC in calling on the Trump Administration and Congress to: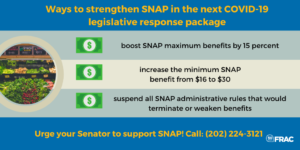 Those provisions should continue until a specific economic metric demonstrates that the economy has recovered sufficiently.