Hunger Quick Facts
More than 37 million Americans live in households that struggle against hunger.
Households in rural areas are experiencing considerably deeper struggles with hunger compared to those in metro areas, with higher rates of food insecurity overall (12.7 percent compared to 10.8 percent), and higher rates of very low food security (4.8 percent compared to 4.2 percent).
Nearly one in seven households with children cannot buy enough food for their families.
The food insecurity rate for households with children (13.9 percent) is two-fifths higher than the rate for households without children (9.9 percent).
The rates of food insecurity were much higher for households headed by African Americans (21.2 percent — two and a half times the rate for white non-Hispanic households) and Hispanics (16.2 percent — two times the rate for white non-Hispanic households).
The food insecurity rate is highest in the South, followed by the Midwest, West, and Northeast.
The prevalence of food insecurity varied considerably by state, ranging from 7.8 percent in New Hampshire to 16.8 percent in New Mexico (for the three-year period of 2016–2018). Even in the best performing states, 1 in 13 households was food insecure.
USDA released its latest food insecurity report on September 4. See FRAC's statement: Food Insecurity Data Show the Need for More Robust Anti-Hunger Efforts, Not Ill-Considered Policies That Increase Hunger.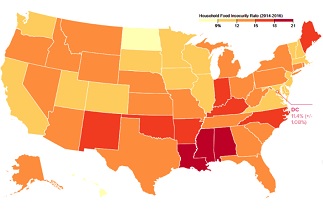 Food Insecurity Maps and Tables
Want to learn more about food insecurity in your state? Explore FRAC's interactive maps and tables to find the most recent household food insecurity rates in your state. Scroll over your state to view the percent of households struggling with food insecurity or very low food security. Engage with FRAC's interactive, searchable tables to see the change in household food insecurity rates over time.
Poverty Quick Facts
38.1 million people (11.8 percent) lived in poverty in 2018, down from 12.3 percent in 2017.
More than 16 percent of children (11.9 million) lived in poverty in 2018.
The 2018 poverty rate was much higher for African Americans (20.8 percent) and Hispanics (17.6 percent) than for whites (8.1 percent).
SNAP lifted 3.2 million people out of poverty, school lunches lifted 1.4 million out of poverty, and WIC lifted 302,000 people out of poverty in 2018.
The Census Bureau released its latest report on income, poverty, and health insurance on September 10. See FRAC's statement: Millions of Americans Continue to Struggle Against Poverty.
The Census Bureau released its American Community Survey Poverty Rates by State 2018 in September. See FRAC's interactive maps and tables.
Who is impacted by hunger?
Veterans Have Fought for Our Country — They Shouldn't Have to Fight Against Hunger

Read the blog post

Despite an improving economy, millions of families still struggle with hunger in every community, and every state.

Read more

Poverty, hunger, and food insecurity disproportionately affect Americans who have communicative, mental, or physical disabilities.

Read more

Certain jobless adults without dependents have time limits on their receipt of SNAP benefits despite their willingness to work.

Download the infographic
Dive into @fractweets' Summer 2019 ResearchWire! Check out the latest data on #WIC and why #SchoolMeals are a back-to-school essential, and read a @ChildrensHW feature on SNAP benefit adequacy: bit.ly/2PcligK
Solutions Exist to End Hunger & Poverty
Hunger in America is a serious issue that requires a serious response. When there is talk about improving opportunities for all Americans through education, health care, and the economy, addressing hunger and poverty must be a part of that conversation.
Education
The last thing on a hungry child's mind is learning. Children are better equipped to learn when they have the nutrition they need. Yet too many low-income children who are eligible for free and reduced-price meals are not accessing them. More must be done to increase participation in school meals, summers meals, afterschool meals, and child care meals.
Health care
Research shows that food insecurity is linked with costly chronic diseases and unfavorable outcomes. According to the Root Cause Coalition, the annual costs of hunger to the U.S. health care system are $130.5 billion. Greater investments in nutrition programs would go a long way in addressing obesity and other negative health outcomes faced by low-income Americans.
Economy
SNAP serves as the first line of defense against hunger for millions of Americans. The program also stimulates the economy. Recent census data shows that SNAP lifted 3.6 million people out of poverty in 2016. In addition, USDA research shows that each $5 of SNAP benefits generates nearly twice that in economic activity. Federal nutrition programs can't do it alone. There must be a comprehensive approach.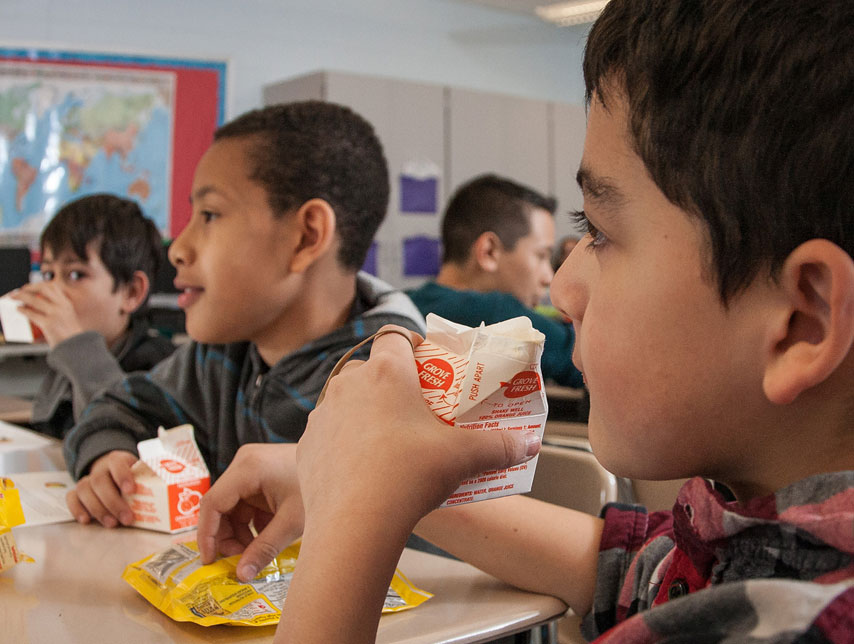 Taking Action
Plan of Action to End Hunger in America
There can be no more excuses for hunger in this country. In our A Plan of Action to End Hunger in America, we recommend eight strategies to reduce the suffering and unnecessary costs caused by struggles with hunger, poverty, and reduced opportunity.