June 29, 2023
Anti-hunger advocates can be vital players in addressing disproportionately high rates of food insecurity and economic insecurity among LGBTQIA+ individuals and families by strengthening access to federal nutrition programs and by championing the Equality Act, landmark federal legislation to prohibit discrimination on the basis of sexual orientation, gender identity, and sex characteristics. 
Hunger in LGBTQIA+ Communities  
LGBTQIA+ individuals and families have long experienced higher rates of hunger and poverty than non-LGBTQIA+ individuals and families. And some community members, including transgender adults, young adults, women, and Black, Latinx, American Indian, and Pacific Islander LGBTQIA+ people, experience particularly high rates.  
In May 2023, 15 percent of LGBT adults and 19.3 percent of people who identified as another sexual orientation (e.g., intersex, asexual) reported not having enough to eat, compared to 10.4 percent among non-LGBT adults. Again, certain LGBTQIA+ people had heightened rates (e.g., 27.6 percent of transgender adults reported not having enough to eat.)  
A March 2023 report from the Center for LGBTQ Economic Advancement and Research and Movement Advancement Project found that half of the LGBTQI+[1] survey respondents reported that they were unable to pay all of their bills in full that month.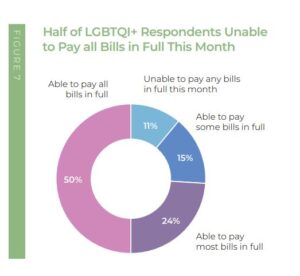 Struggles with hunger and economic insecurity experienced by LGBTQIA+ people are often driven and exacerbated by discrimination, as well as other factors such as family rejection. A 2022 nationally representative survey by the Center for American Progress found that more than one in three LGBTQI+ adults reported experiencing some form of discrimination in the past year. And the rate increased to more than half for LGBTQI+ people of color, LGBTQI+ people with disabilities, and transgender or non-binary people. 
The Equality Act 
This Pride Month, Sens. Merkley, Baldwin, and Booker, and Rep. Takano reintroduced the Equality Act, foundational legislation that would enshrine federal non-discrimination protections for LGBTQIA+ people.  
Many Americans believe that consistent, strong discrimination protections for LGBTQIA+ people already exist at the national level — but unfortunately that's not the case. LGBTQIA+ communities face a patchwork of state laws — with varying levels of protection from discrimination  — and in many states there are no explicit protections at all. Legal protections at the federal level are especially important at this time of heightened rhetorical and policy attacks on LGBTQIA+ people, especially transgender people. More than 500 anti-LGBTQIA+ laws have been introduced in state legislatures in this year alone. 
The Equality Act would provide essential discrimination protections in housing, employment, credit, and other realms that are core to economic security and to food security.  
Actions for Advocates  
Support the Equality Act

to establish federal nondiscrimination protections.

Connecting with

LGBTQIA+ centers

or organizations in your area can also help you to be aware of and support opportunities at the state level.

 
Connect LGBTQIA+ individuals and families with low incomes to federal nutrition programs.

Check out this federal nutrition program

factsheet

and

program chart

for LGBTQIA+ communities produced by Food Research & Action Center (FRAC) and the National Center for Lesbian Rights (NCLR). Learn more about and promote the U.S. Department of Agriculture

civil rights protections

related to gender identity, including gender expression, and sexual orientation. 

 

Engage with NCLR and FRAC as a member of the

National LGBTQ Anti-Poverty Action Network

for more opportunities to take action. 

 
---
[1] This survey used the acronym LGBTQI+.