May 7, 2019
May is Older Americans Month, providing an opportunity to highlight how millions of seniors in the U.S. struggle against hunger and the strategies available to help ensure more seniors have access to the nutrition they need to thrive.
Across the nation, there are more than 45 million households with seniors (60+), and close to 9.5 percent of them are food insecure, or do not have sufficient resources to afford enough food to fully meet their needs. Food insecurity rates for households with seniors vary state to state — Louisiana has the highest rate of senior household food insecurity at 16.3 percent, and North Dakota has the lowest rate at 3.9 percent — but no corner of the country is immune to food insecurity among seniors.
The impact of senior hunger extends far beyond an empty stomach: seniors struggling to put food on the table often face negative health, nutritional, and financial consequences. The good news is that solutions exist to help seniors receive enough nutrition to maintain a healthy, active, and independent life.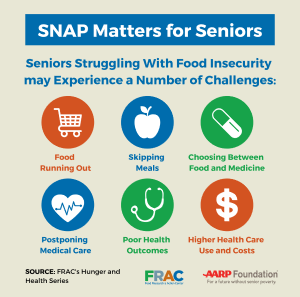 To help you join the fight against senior hunger this Older Americans Month, below are five ways you can help address food insecurity among seniors.
Learn more about how to fight senior hunger at FRAC.org.