November 20, 2020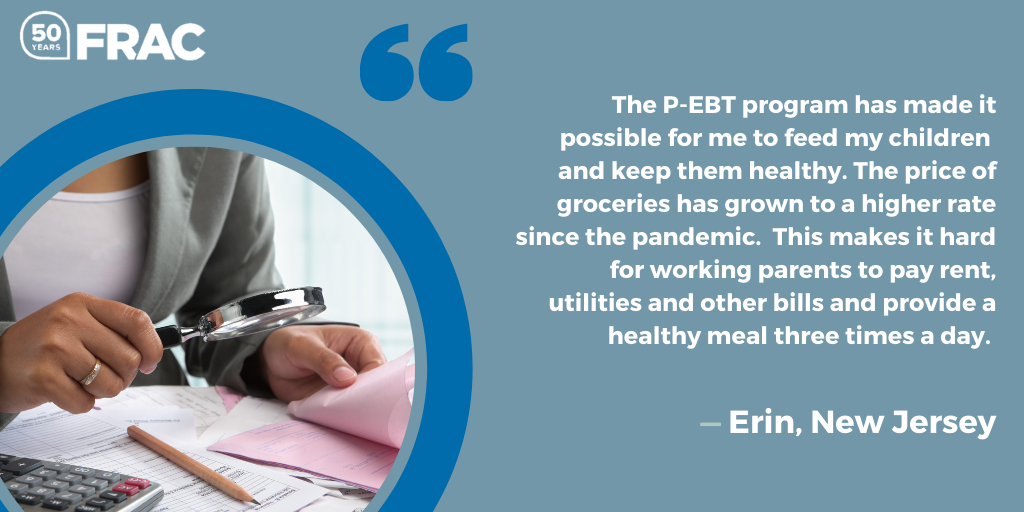 Erin's story is unfortunately not unique. Women have been disproportionately affected by unemployment, poverty and hunger during the COVID-19 pandemic. They have lost jobs at higher rates than men. Child care burdens are falling disproportionately to women. In addition, women have faced higher rates of poverty and food insecurity during the crisis. Some have even called this recession a "she-cession."
Women have been more affected by food insecurity than men. The most recent Census Pulse survey data shows that 9.4% of men surveyed sometimes or often did not have enough to eat, while 11.2% of women sometimes or often did not have enough to eat.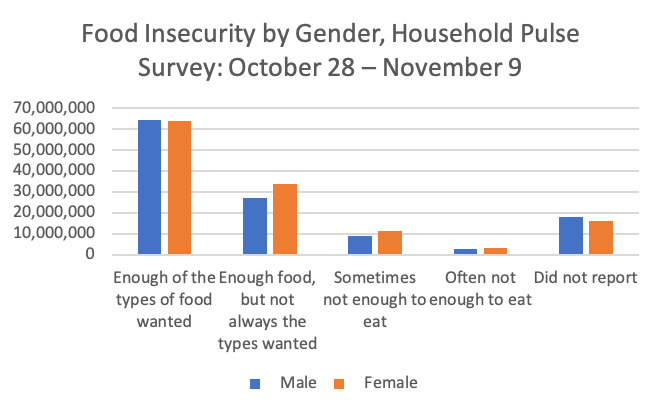 Of those who sometimes or often did not have enough to eat, 56.2% were women, or about 56%.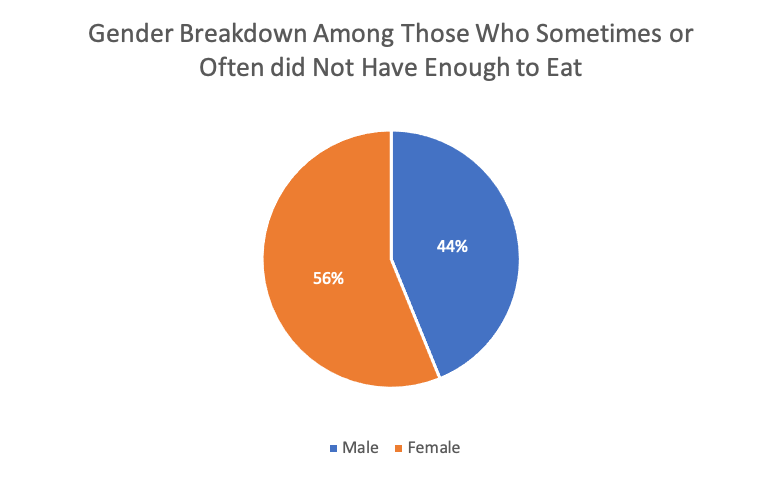 More women tended to work in industries hit the hardest at the start of the pandemic, including retail and hospitality. Black and Latinx women have been affected even more than white women.
In initial job losses at the start of the pandemic, Black and Latinx women lost jobs at higher rates and in May, Latinx women's unemployment rate reached about 20 percent, with Black women second at 16 percent compared to a 15 percent unemployment rate for white women.
Unemployment across groups, Feb. 2020 to April 2020
Chart from Institute for Women's Policy Research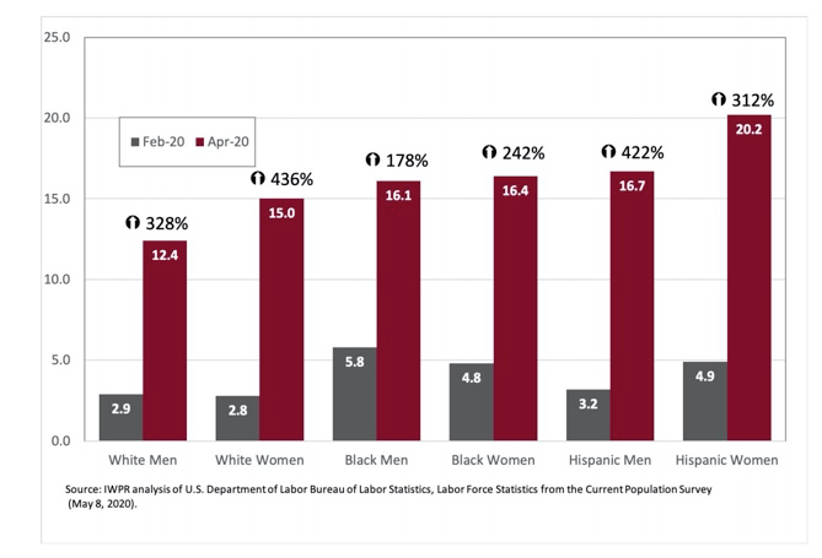 Unemployment numbers for women have improved since then, but women still lag behind. The latest unemployment numbers show that 7.7% of women are unemployed, compared to 7.4% of men.
Hunger can have a different effect on women than on men. Research has shown that the association of food insecurity and adverse health outcomes, such as diabetes and obesity, is more prevalent among women. One literature review showed that food-insecure women had lower intakes of nutrients including calcium, iron, magnesium, and folate. Iron and folate are especially important for women's health, and play an important role in contraception, pregnancy, and breastfeeding.
The federal nutrition programs can help. The Supplemental Nutrition Assistance Program (SNAP) continues to be a critical support for millions of hungry households, providing health and nutrition benefits and stimulating the economy. Receiving SNAP has been shown to improve health among mothers of young children in food-insecure households. This group was less likely to experience symptoms of maternal depression and less likely to be in poor health, compared to mothers in food-insecure households not receiving SNAP.
The Special Supplemental Nutrition Program for Women, Infants, and Children (WIC) helps pregnant women and new mothers access nutritious food, nutrition education, and health care.
The school meals programs help families ensure their children have access to nutritious meals. As schools have been shuttered due to COVID, a new, innovative program called Pandemic EBT (P-EBT) has provided families with money on a new or existing EBT card to help fill the school meals gap.
It's time for Congress to pass a comprehensive package that can help women, especially Black and Latinx women, who have been disproportionately affected by unemployment, poverty and hunger during the COVID-19 crisis. Take action to contact your Members of Congress today.