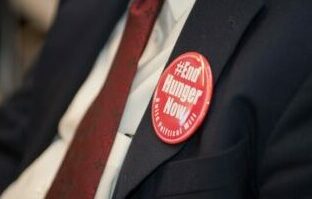 National Anti-Hunger Policy Conference 2021
This year, the National Anti-Hunger Policy Conference is going virtual to allow thousands of anti-hunger advocates from all across the country to safely and conveniently attend from home. You will hear from officials from the Biden-Harris Administration and the new Congress and capture the energy and networking opportunities that are the hallmark of this annual conference.
This is the final week to take action before Congress adjourns for the holidays. Congress is negotiating the end-of-year package that will include an omnibus fiscal year 2021 appropriations bill and likely COVID-19 relief. The appropriations bill must be passed by this Friday, December 18, when the current continuing resolution (CR) runs out.
Tell Your Members of Congress: "Do not leave town for the holidays until a much-needed COVID-19 relief bill is passed. The package must address many pressing priorities, including boosting SNAP benefits. I also urge you to push for a longer-term and more robust package in the new year to provide the full range of economic relief necessary to alleviate the hardship faced by millions of households."
Background: As negotiations stand now, the Bipartisan COVID-19 Emergency Relief Act of 2020 (see the section-by-section summary as released on December 14) is an important first step to provide immediate relief to individuals and families reeling from the economic fallout from COVID-19. Although FRAC is pleased with many of the provisions included in the package, they are inadequate to provide the full range of relief that is needed throughout the economic recovery from the pandemic.
As negotiations continue — and the contents and timing may change — we must stay strong in our urgent message to Congress to protect and strengthen SNAP and other critically important nutrition and human needs programs.
For additional updates, check out FRAC's COVID-19 page.
Click to Tweet: Tell Your Members of Congress to not leave town for the holidays until a much-needed #COVID19 relief bill that includes boosts to SNAP is passed. Learn more w/ @fractweets: http://bit.ly/3jRvt5B #BoostSNAPNow
Questions? Contact Ellen Teller (eteller@frac.org) or Lauren Badger (lbadger@frac.org).