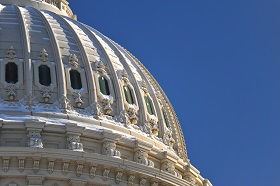 Take Action to Protect SNAP during Farm Bill Conference
Urge your Members of Congress to: protect and strengthen the Supplemental Nutrition Assistance Program (SNAP) during Farm Bill Conference deliberations; speak out in support of SNAP and the Senate Farm Bill SNAP provisions; and reject any cuts or efforts to weaken the program – especially the draconian provisions contained in the House Farm Bill. Tell them to make sure the Farm Bill keeps food on the table for people struggling against hunger. (Capitol Switchboard: 202-224-3121)
ON THE HILL
2018 Farm Bill letter to House and Senate Budget and Appropriations Committees

FRAC is proud to have played a leadership role in developing and garnering support for

this letter

(pdf) urging the House and Senate Budget and Appropriations Committees not to "hinder development and passage of the 2018 Farm Bill with further cuts."

SNAP Support Letters
Take Action
FRAC Response to Dangerous House FY2018 Budget Resolution - Advocates Urged to Take Immediate Action

Find out more
If it's not broken, why fix it? The proposed #FarmBill attacks SNAP and millions of struggling families, says @fractweets: http://bit.ly/2qu62fs
FRAC Chat

September is National Childhood Obesity Awareness Month, which provides an excellent opportunity to take a closer look at the latest research on children's obesity rates, consequences, causes, and solutions.

A key strength of the Supplemental Nutrition Assistance Program (SNAP) is its structure as an entitlement program that utilizes regular channels of commerce through public and private partnerships. The U.S. Department of Agriculture, which administers SNAP, authorizes food retailers to accept SNAP benefits. SNAP customers then redeem those benefits by using Electronic Benefit Transfer (EBT) debit cards at authorized stores. This makes SNAP a cost-effective means for government to get food assistance to needy people. It also means that SNAP customers can shop where and how other customers shop for their groceries. And it means SNAP can respond quickly to increased need, whether due to economic downturns or natural disasters.

This Facebook Live took place on August 2. Below are excerpts of Rep. McGovern's remarks. The full recording may be viewed here.