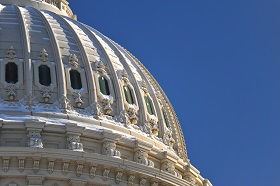 FRAC Statement: Tax Bill Will Cause Harm to Millions of Americans
The tax bill passed by Congress today (December 20, 2017) is a great disservice to the American people. It gives huge tax cuts to the rich, while giving tiny cuts — or tax increases — to millions of low- and moderate-income households. And the modest tax cuts for these households are written in disappearing ink. More…
ON THE HILL
2018 Farm Bill letter to House and Senate Budget and Appropriations Committees

FRAC is proud to have played a leadership role in developing and garnering support for

this letter

(pdf) urging the House and Senate Budget and Appropriations Committees not to "hinder development and passage of the 2018 Farm Bill with further cuts."

SNAP Support Letters
Take Action
FRAC Response to Dangerous House FY2018 Budget Resolution - Advocates Urged to Take Immediate Action

Find out more
Meet me in D.C. for #hungerpc18! I'll be joining 1,000+ anti-hunger advocates taking our fight to Capitol Hill w/@fractweets & @FeedingAmerica http://bit.ly/2kM7pmf
FRAC Chat

Tomorrow, congressional leaders are presenting the Congressional Gold Medal to former Senator Bob Dole. The Food Research & Action Center (FRAC) is pleased to add its felicitations to Senator Dole, a lifelong leader in the fight against hunger in the U.S. and around the world.

FRAC's live-feed provides updates on how federal nutrition programs are responding to meet the needs of those affected by recent natural disasters.

A new white paper from FRAC reviews the latest research from academic, government, and other sources on the harmful impacts of poverty, food insecurity, and poor nutrition on the health and well-being of children, adults, and older adults.