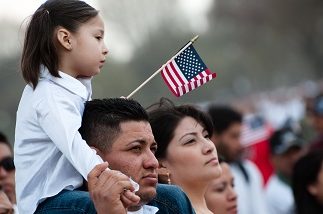 Lift the Bar Act (S. 2038 / H.R. 4170)
The Lift the Bar Act championed by Rep. Pramila Jayapal (D-WA) seeks to restore access to public programs for lawfully present immigrants by removing the five-year waiting period and other restrictions to SNAP eligibility.
House of Representatives (H.R.4170)
California
Alex Padilla (D-CA)
Hawaii
Mazie Hirono (D-HI)
Massachusetts
Ed Markey (D-MA)
Elizabeth Warren (D-MA)
New Jersey
Cory Booker (D-NJ)
New Mexico
Martin Heinrich (D-NM)
Ben Ray Lujan (D-NM)
New York
Kirsten Gillibrand (D-NY)
Ohio
Sherrod Brown (D-OH)
Vermont
Bernie Sanders (I-VT)
Peter Welch (D-VT)
Washington
Patty Murray (D-WA)
Alabama
Terri Sewell (D-AL-7)
Arizona
Ruben Gallego (D-AZ-3)
Raul Grijalva (D-AZ-7)
California
Nanette Barragan (D-CA-44)
Salud Carbajal (D-CA-24)
Tony Cardenas (D-CA-29)
Judy Chu (D-CA-28)
Lou Correa (D-CA-46)
Mark DeSaulnier (D-CA-10)
Jimmy Gomez (D-CA-34)
Jared Huffman (D-CA-2)
Sara Jacobs (D-CA-51)
Sidney Kamlager (D-CA-37)
Ro Khanna (D-CA-17)
Barbara Lee (D-CA-12)
Mike Levin (D-CA-49)
Ted Lieu (D-CA-36)
Zoe Lofgren (D-CA-18)
Kevin Mullin (D-CA-15)
Grace Napolitano (D-CA-31)
Jimmy Panetta (D-CA-19)
Scott Peters (D-CA-50)
Katie Porter (D-CA-47)
Linda Sanchez (D-CA-38)
Adam Schiff (D-CA-30)
Brad Sherman (D-CA-32)
Eric Swalwell (D-CA-14)
Mark Takano (D-CA-39)
Norma Torres (D-CA-35)
Juan Vargas (D-CA-52)
Colorado
Diana DeGette (D-CO-1)
Jason Crow (D-CO-6)
Connecticut
Jahana Hayes (D-CT-5)
Washington, D.C.
Eleanor Holmes Norton (D-DC-At Large)
Florida
Kathy Castor (D-FL-14)
Sheila Cherfilus-McCormick (D-FL-20)
Lois Frankel (D-FL-22)
Darren Soto (D-FL-9)
Debbie Wasserman (D-FL-25)
Frederica Wilson (D-FL-24)
Georgia
Hank Johnson (D-GA-4)
Nikema Williams (D-GA-5)
Hawai'i
Jill Tokuda (D-HI-2)
Illinois
Sean Casten (D-IL-6)
Chuy García (D-IL-4)
Robin Kelly (D-IL-2)
Mike Quigley (D-IL-5)
Delia Ramirez (D-IL-3)
Jan Schakowsky (D-IL-9)
Indiana
Andre Carson (D-IN-7)
Massachusetts
Jake Auchincloss (D-MA-4)
Jim McGovern (D-MA-2)
Seth Moulton (D-MA-6)
Ayanna Pressley (D-MA-7)
Lori Trahan (D-MA-3)
Maryland
Glenn Ivey (D-MA-4)
Jamie Raskin (D-MD-8)
David Trone (D-MD-6)
Maine
Chellie Pingree (D-ME-1)
Michigan
Shri Thanedar (D-MI-13)
Rashida Tlaib (D-MI-12)
Minnesota
Ilhan Omar (D-MN-5)
Dean Phillips (D-MN-3)
Missouri
Emanuel Cleaver (D-MO-5)
North Carolina
Alma Adams (D-NC-12)
Valerie Foushee (D-NC-4)
Deborah Ross (D-NC-2)
New Jersey
Rob Menendez (D-NJ-8)
Bill Pascrell (D-NJ-9)
Donald Payne (D-NJ-10)
Bonnie Watson Coleman (D-NJ-12)
New Mexico
Melanie Stansbury (D-NM-1)
Nevada
Dina Titus (D-NV-1)
New York
Jamaal Bowman (D-NY-16)
Yvette Clarke (D-NY-9)
Adriano Espaillat (D-NY-13)
Grace Meng (D-NY-6)
Jerry Nadler (D-NY-12)
Ritchie Torres (D-NY-15)
Nydia Velázquez (D-NY-7)
Oregon
Earl Blumenauer (D-OR-3)
Suzanne Bonamici (D-OR-1)
Andrea Salinas (D-OR-6)
Pennsylvania
Madeleine Dean (D-PA-4)
Dwight Evans (D-PA-3)
Summer Lee (D-PA-12)
Mary Gay Scanlon (D-PA-5)
Tennessee
Steve Cohen (D-TN-9)
Texas
Greg Casar (D-TX-35)
Joaquin Castro (D-TX-20)
Lloyed Doggett (D-TX-37)
Veronica Escobar (D-TX-16)
Sylvia Garcia (D-TX-29)
Marc Veasey (D-TX-33)
Virginia
Don Beyer (D-VA-08)
Gerry Connolly (D-VA-11)
Vermont
Becca Balint (D-VT-At Large)
Washington
Suzan DelBene (D-WA-1)
Pramila Jayapal (D-WA-7)
Derek Kilmer (D-WA-6)
Adam Smith (D-WA-9)
Marilyn Strickland (D-WA-10)
Wisconsin
Gwen Moore (D-WI-4)
Mark Pocan (D-WI-2)