February 3, 2022
Last month, U.S. Secretary of Health and Human Services (HHS), Xavier Becerra renewed the federal pandemic public health emergency (PHE) declaration until April 16, 2022. HHS could further renew it if the public health emergency continues to exist.
Several temporary SNAP improvements that have mitigated food hardship during the COVID-19 crisis terminate whenever that PHE ends. A PHE termination threatens to result in a significant "hunger cliff" for millions of people. In addition to other relief that expires, most SNAP participants will lose $82 a month in SNAP benefits.
This two-part blog summarizes the array of SNAP aid tied to the duration of that PHE declaration, makes a case for maintaining it, and outlines priority actions to permanently strengthen SNAP's ability to fight hunger and support a more equitable economic recovery.
Part 1 focuses on SNAP benefit amounts and eligibility strategies. Part 2 will focus on SNAP administrative access strategies.
Temporary SNAP Benefits and Eligibility Improvements Tied to PHE
Several federal government actions have increased SNAP benefit allotments and program access during COVID-19. The Families First Coronavirus Response Act  was enacted in March 2020.
Three key statutory provisions ​that improve SNAP benefits and eligibility are tied to the duration of the federal PHE.
1) Allowing states to request authority from USDA to provide temporary SNAP Supplemental Allotments (EA)s that increase benefits for SNAP households. (Families First Coronavirus Response Act enacted in March 2020)
In states that leverage SNAP EAs, households' monthly allotments are brought up to maximum amounts for their household size; an extra $95 a month goes to the lowest income SNAP households that qualify for maximum benefits under normal SNAP calculations.
Thirty-nine states, the District of Columbia, Guam, and the Virgin Islands were approved to issue EAs for all SNAP households in January 2022; 19 jurisdictions already had been approved for February issuances as that month started.
On average, when the PHE ends, participants in EA states will lose $82 a month in SNAP benefits. For those who qualify for the minimum SNAP benefits, their monthly allotments will plunge from $250 to a mere $20.
2) Suspending time limits on SNAP eligibility for unemployed and underemployed individuals (Families First Coronavirus Response Act enacted in March 2020).
Under a 1996 law, certain adults aged 18-49 without dependents are subject to an arbitrary three-month time limit of SNAP benefits unless they can document 80 work hours a month. This harsh rule is counterproductive, takes food from people struggling in the labor market, reinforces negative stereotypes about who is worthy of public assistance, and exacerbates racial and health equity.
Pursuant to legislation enacted in March 2020, the time limit is largely suspended through the first month after the PHE expires.
3) Extending SNAP eligibility to more college students through the Consolidated Appropriations Act, 2021 enacted in December 2020.
Under regular rules, most college students enrolled at least half time in higher education face extra bars to SNAP eligibility. The S. Government Accountability Office report analyzing 31 studies on college food insecurity and SNAP access concluded that college students experiencing hunger have a harder time succeeding in school. It estimated that prior to the pandemic nearly two million students at risk of going hungry were potentially eligible for SNAP but did not report receiving benefits.
COVID-19 has only worsened hunger among higher education students, with nearly 1 in 4 students becoming less food secure, with deep disparities for racial and ethnic minority students. The 2021 Real College Basic Needs Survey during the Pandemic by the Hope Center for College, Community, and Justice Real College Survey found 75% of Indigenous, 70% of Black, and 70% of American Indian or Alaska Native students experienced food insecurity, housing insecurity, and/or homelessness.
During COVID-19, pursuant to the Consolidated Appropriations Act, 2021 enacted in December 2020, more college students may qualify for SNAP if they are eligible for federal or state work-study or have an "Expected Family Contribution" of $0. That temporary improvement is designed to sunset one month after termination of the PHE.
Urgency of SNAP Agenda to Avert the "Hunger Cliff"
The specter of an end to these PHE-related temporary improvements is concerning, especially given the state of food insecurity in the country.  Several economic indicators and reports from SNAP customers  show that many low-income households face precarious financial situations. According to the most recent estimates, more than 17% of all households face food insecurity, a figure that rises to nearly one-quarter of households with children (23.1%). These top-line figures mask deeply disparate rates of food insecurity that Black, Latino/Hispanic, and households from other communities of color experience compared to white families, figures that reflect systemic injustices in equitable access to food and economic resources.
Abrupt loss of SNAP benefit boosts and diminished SNAP eligibility would worsen hardship and inequities as well as have negative impacts on the economy.  Each dollar in SNAP benefits during a downturn generates between $1.50 and $1.80 in economic activity.
Key Legislation for SNAP Benefit Adequacy
The Biden Administration should continue to renew the PHE so long as conditions warrant.  In addition, given that the PHE-related SNAP relief is only temporary, three bills are key to make permanent progress on SNAP benefit adequacy, equitable access for unemployed and underemployed people and college students.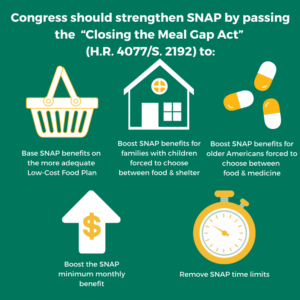 —Close the Meal Gap bill (H.R. 4077/S.2192), sponsored  by Representative Alma Adams (D-NC) and 95 Representatives and by Senator Kirsten Gillibrand (D-NY) and four Senators, would base SNAP benefits on a more adequate food market basket and ease impossible choices families with children are forced to make between paying for food and shelter and that older Americans and people with disabilities must make between paying for food and medicine. Urge Members of Congress to close the SNAP meal gap by sponsoring and enacting this bill.
–The Improving Access to Nutrition Act H.R. 1753 by Rep. Barbara Lee (D-CA) and 54 Representatives would permanently eliminate SNAP's arbitrary three-month time limit. It would provide nutrition assistance to more people struggling with unemployment or underemployment, and promote racial and health equity.
–The Enhanced Access To SNAP Act (Eats Act) of 2021 (H.R. 1919/S. 2515), sponsored by Rep. Jimmy Gomez (D-CA) and 85 Representatives and Senator Kirstin Gillibrand (D-NY) and 7 Senators, would address the inequitable college student SNAP rules related to work study and outside employment.  It would permanently improve SNAP access to low-income college students who are otherwise eligible for benefits.
Get Involved With FRAC's Action Network
Urge Members of Congress to prevent a hunger cliff and strengthen SNAP by sponsoring and enacting the Closing the Meal Gap Act and all priority bills. Send an email or share a social media post using FRAC's Action Network.