November 22, 2019
By Food Research & Action Center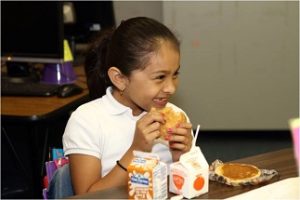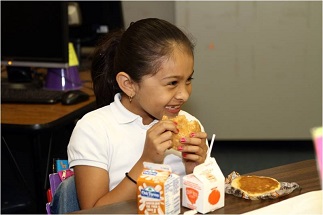 School meals debt can occur when students arrive in the cafeteria without cash in hand or in their school meals account to pay for their meals or for the "reduced-price" copayment. While the majority of schools don't punish children for the debt, too many schools do. There have been many headlines about unacceptable practices by schools handling unpaid school meals fees, including stamping a child's hand with "I owe school lunch money," threatening to ban students from prom, requiring students to do chores, or even throwing their lunch away. All of these negatively impact the culture of the cafeteria and the school.
There are a variety of reasons for school meals debt, including a change in household income status, a misunderstanding of school meals procedures, or simply forgetting to refill the account. Whatever the case may be, however, school districts should ensure that communication about the debt is held with the parent or guardian — not the student.
The bottom line is that there are solutions to resolve school meals debt without embarrassing children. Below is a list of FRAC's resources that provide guidance for how to move forward so that the cafeteria is a healthy and positive experience for everyone.
Best Practices for Preventing or Reducing School Meal Debt: In this resource, four strategies are recommended and then are down into specific actions. For example, under "Respond Quickly When Students Accrue Debt," there are three pieces of advice: institute consistent communications about school meals accounts; encourage families to apply for school meals; and reduce or eliminate a student's ability to purchase competitive foods.
Establishing Unpaid Meal Fee Policies: Best Practices to Ensure Access and Prevent Stigma: This guide highlights the best practices at state and local levels to protect children from stigma; ensure that eligible children are certified for free and reduced-price meals; and make certain that children get the nutrition necessary to learn at school. Also included is valuable context, such as background information and challenges, but what is perhaps most helpful are the examples of states that have policies.
Community Eligibility: The Key to Hunger-Free School, School Year 2018–2019: Community eligibility is an important solution for unpaid school meal debt for high-poverty schools and districts as it allows these schools to provide meals to students at no charge. In this report, FRAC analyzes the implementation of community eligibility — nationally and for each state and the District of Columbia — in the 2018–2019 school year.
Best Practices for Engaging With Households About School Meal Debt: This resource provides six effective strategies for outreach and engagement with households that have school meals debt. From using automated alert systems in order to notify households about school meals debt to negotiating long-term repayment plans with households, school districts have multiple ways to work with households, not the children, to resolve school meals debt.
No student should learn what hunger feels like at school, nor should they experience shame and stigma. The federally funded school meals programs are among the best tools to reduce childhood hunger and improve nutrition. Addressing unpaid school meals fees is an important step to ensure children living in struggling households have access to the nutrition they need to learn and grow.
Be sure to check out the bills FRAC is supporting that are designed to address school meals debt and eliminate the practice of shaming.