The Food Research & Action Center (FRAC) hosted its annual dinner on June 6, at The Mayflower Hotel in Washington, D.C. More than 300 guests representing stakeholders from all corners of the anti-hunger world attended, including anti-hunger groups, national organizations, business, labor, and the federal government. The dinner benefits FRAC's Campaign to End Childhood Hunger, which plays a key role in expanding the availability of the Supplemental Nutrition Assistance Program (SNAP) and child nutrition programs.
Happy Birthday to the Child and Adult Care Food Program and the Summer Food Service Program!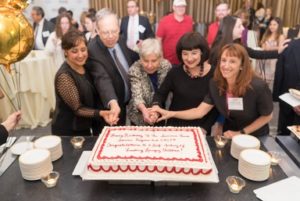 This year's dinner celebrated the 50th anniversary of two landmark child nutrition programs: the Summer Food Service Program (SFSP) ] and the Child and Adult Care Food Program (CACFP).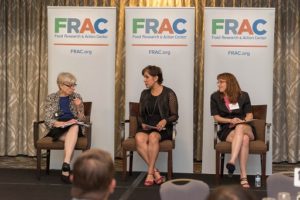 Eleanor Clift of The Daily Beast moderated a conversation with Jodi Grant, executive director of Afterschool Alliance, and Dr. Lynette Fraga, executive director of Child Care Aware of America, which highlighted the importance of these programs in supporting the healthy growth and development of millions of children.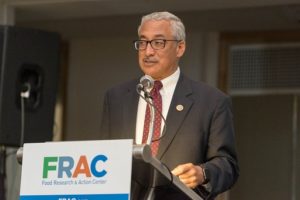 "Children can't learn if they don't eat." — Rep. Bobby Scott
In his remarks, Rep. Bobby Scott (D-VA), ranking member on the House committee with jurisdiction over the child nutrition programs, shared reasons why the child nutrition programs are so effective and why he sees the entitlement as a key component of the programs, and why that structure must be defended, including avoiding annual appropriation fights and allowing the programs to grow when the economy gets worse and there is more need.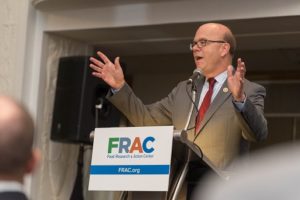 In a rousing speech, Rep. McGovern, ranking member on the House subcommittee with jurisdiction over SNAP, excoriated Members of Congress who voted "Yes" on the House Farm Bill, H.R. 2 — a bill that would "cause millions of people to lose their SNAP benefits, and, as a result, struggle more than they already do to put food on the table for themselves and their children."
"[I am] bothered by the constant scapegoating of poor people." — Rep. Jim McGovern
"We need to find that common ground again … We need to care more … This country needs to do better." — Rep. Jim McGovern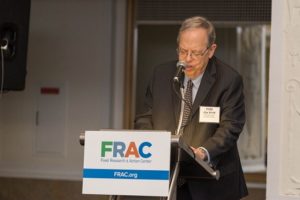 "The fact that a new Poor People's Campaign has to occur in 2018 says much about our need for moral revival … and about how, despite the enormous progress we've made in 50 years, so much more needs to be done." — FRAC President Jim Weill
FRAC President Jim Weill recognized the progress that has been made in reducing hunger in this country, but also acknowledged how much work remains to be done to end hunger for everyone in America. #endhungernow
FRAC Thanks Three Board Members for Their Service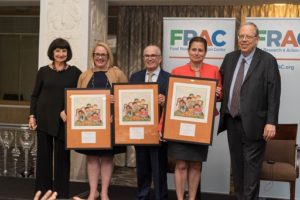 FRAC Board Chair Judy Whittlesey honored retiring FRAC board members Dagmar Farr, Louise Hilsen, and Marshall Matz for their leadership and service in the fight against hunger.