Media Contact:

Emily Pickren
epickren@frac.org
202-640-1118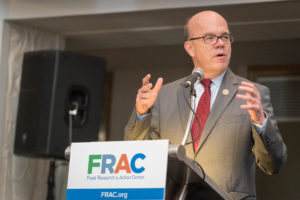 WASHINGTON, June 8, 2018 — The Food Research & Action Center (FRAC) held its 28th Annual Benefit Dinner on June 6 in Washington, D.C. This year's dinner celebrated the 50th anniversary of the enactment of the Summer Food Service Program (SFSP) and the Child and Adult Care Food Program (CACFP). Through SFSP, sponsor organizations in communities across the country serve nutritious meals to low-income children during the summer.  CACFP provides meals and snacks to over 4 million children in child care centers, home day care, Head Start programs, and afterschool programs.
FRAC welcomed over 300 guests to this year's event. Speakers included Rep. Jim McGovern (D-MA), Rep. Bobby Scott (D-VA), Judy Whittlesey, board chair of FRAC, and Jim Weill, president of FRAC.
In a rousing speech, Rep. McGovern excoriated Members of Congress who voted "Yes" on the House Farm Bill, H.R.2 — a bill that would "cause millions of people to lose their SNAP benefits and as a result struggle more than they already do to put food on the table for themselves and their children." McGovern continued, "How could anybody in good conscience vote for this bill? The American people deserve so much better." McGovern commended FRAC and anti-hunger advocates across the country for their efforts to beat back H.R. 2, but warned that it is "like the Creature from the Black Lagoon, it keeps rearing its ugly head."
Turning back to the theme of the evening, journalist Eleanor Clift of The Daily Beast and The McLaughlin Group moderated a panel featuring Jodi Grant, executive director, Afterschool Alliance, and Lynette Fraga, executive director, Child Care Aware of America. The panel discussed the two programs celebrating their 50th anniversaries, and the need for more investment in in quality child care and out-of-school time programs to help ensure children receive the skills, knowledge, and nutrition they need to learn and thrive.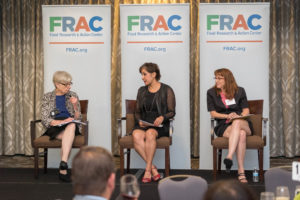 FRAC also honored retiring board members Dagmar Farr of the Food Marketing Institute, Louise Hilsen, formerly of Kelley Drye & Warren LLP, and Marshall Matz of OFW Law for their leadership and service in the fight against hunger.
The dinner benefits FRAC's Campaign to End Childhood Hunger, which began in 1991 and has achieved huge gains in feeding low-income children in communities across the U.S. The campaign plays a key role in expanding the availability of the Supplemental Nutrition Assistance Program (SNAP), school meals, afterschool and summer meals, the Special Supplemental Assistance Program for Women, Infants, and Children (WIC), and CACFP.
###
The Food Research & Action Center is the leading national nonprofit organization working to eradicate poverty-related hunger and undernutrition in the United States.