September is National Childhood Obesity Awareness Month, which provides an excellent opportunity to take a closer look at the latest research on children's obesity rates, consequences, causes, and solutions.
According to a report released earlier this month by the Centers for Disease Control and Prevention, 18.5 percent of U.S. children and adolescents are obese and another 16.6 percent are overweight. While some recent evidence suggests that the overall rates of obesity have plateaued or even declined among some groups of children, the latest figures demonstrate that obesity continues to be a leading public health problem for our nation's young people.
Decades of research have documented the harmful impacts of obesity on the health and well-being of children. For example, those with obesity are more likely to have diabetes, high blood pressure, asthma, depression, and anxiety. And while many obesity-related consequences emerge during childhood, others do so later in life.
Disparities in obesity exist and persist as well. Certain groups of children face higher rates of food insecurity than others, especially Black and Hispanic children when compared to White children. Numerous studies also have tried to untangle the complicated relationship between obesity and poverty and between obesity and hunger among children. Overall, the research indicates that lower-income children face a greater risk of obesity; and hunger and obesity can co-exist in the same child. The graphic from FRAC explores some of the reasons why low-income and food-insecure children and their families are vulnerable to obesity, including limited resources and high stress levels.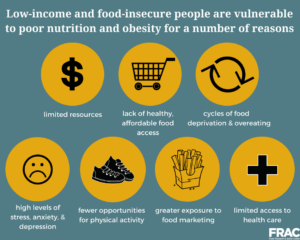 Research shows that participation in the federal nutrition programs plays an important role in improving nutrition and addressing obesity among children, especially low-income children. For example, receiving a free or reduced-price school lunch reduces obesity rates by at least 17 percent. School breakfast participation is associated with a lower body mass index, lower probability of being overweight, and lower probability of obesity. There also is evidence that the Supplemental Nutrition Assistance Program and the Special Supplemental Nutrition Program for Women, Infants, and Children (also known as WIC) protect against obesity.
It is critical that we connect more children to federal nutrition programs as part of a thorough approach to addressing childhood obesity as well as food insecurity.
To learn more about childhood obesity, visit FRAC.org.