November 9, 2018
Veterans Day provides an opportunity to salute the brave individuals who have served our country. For me, the day begins with wondering why so many men and women who have served our country now struggle with hunger. It's simply unacceptable in one of the world's wealthiest nations. Beyond an empty stomach, food insecurity is associated with serious and costly health problems that no veteran should experience.
Food insecurity among veterans is a prevalent issue that cuts across gender, age, and housing status. A study in Women's Health Issues found that 27.6 percent of female veterans were "food insufficient," and food insufficiency was associated with poor health outcomes among female veterans. Another recent study in Public Health Nutrition documented rates of food insecurity among veterans of the U.S. wars in Iraq and Afghanistan that were almost twice as high as rates among the general population. In addition, a study from the National Center on Homelessness Among Veterans found that nearly 50 percent of a national sample of screened veterans who were homeless, at-risk for homelessness, or recently homeless experienced food insecurity.
Fortunately, efforts across the country are underway to ensure that no veteran goes hungry.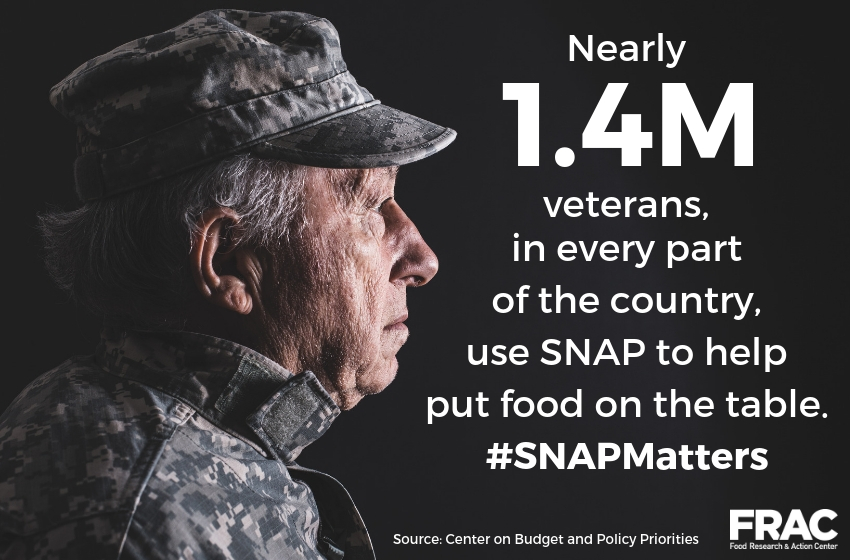 To promote veteran food security, organizations are creating innovative programs and partnerships. This fall, the Military Families Advisory Network established a coalition with FRAC and other service, advocacy, and education organizations to examine why so many military families are facing food insecurity, and develop solutions to the problem. Last year, the Veterans Health Administration (VHA) began screening its patients for food insecurity in response to recent light shed on veteran hunger. In just one year, the VHA has screened more than 3 million patients and connected those in need to crucial nutrition safety net programs, like the Supplemental Nutrition Assistance Program (SNAP) and the Special Supplemental Nutrition Program for Women, Infants, and Children (WIC), and emergency food sites, such as food banks and pantries .
SNAP, in particular, is critical to ending veteran food insecurity. Nationwide, nearly 1.4 million households with veterans — about 7 percent of all veteran households — use SNAP benefits, providing the purchasing power necessary to buy food in a dignified way at military commissaries and other food retail outlets that accept SNAP. The program not only helps veterans everywhere put food on the table, it reduces poverty, supports economic stability, and improves health outcomes.
Alongside increasing veteran participation in SNAP, eradicating veteran food insecurity and hunger will require a national response that addresses underlying causes (e.g., a lack of well-paying jobs and a lack of affordable housing). Supporting veterans by making sure they can access adequate nutrition should be a top priority for our nation. Veterans have fought for our country. They shouldn't have to fight against hunger.
Check out more from FRAC Chat to learn about food insecurity and hunger among veterans.