November 19, 2018
With Thanksgiving quickly approaching, all of us are reflecting on what we are thankful for, and I would bet that two things top many of our lists: family and food. A "public charge" rule recently proposed by the Trump Administration would force a large number of immigrant families to make an impossible choice between the two.
The proposed rule would greatly undercut decades of anti-hunger and anti-poverty efforts by deterring immigrant families from accessing critical public assistance programs, including the Supplemental Nutrition Assistance Program (SNAP) and Medicaid, for fear of facing immigration status consequences. If adopted, the rule would lead to a hungrier, sicker, and poorer nation, and would have the most severe impact on immigrants who are people of color, children, seniors, non-English speakers, and low- or moderate-income earners.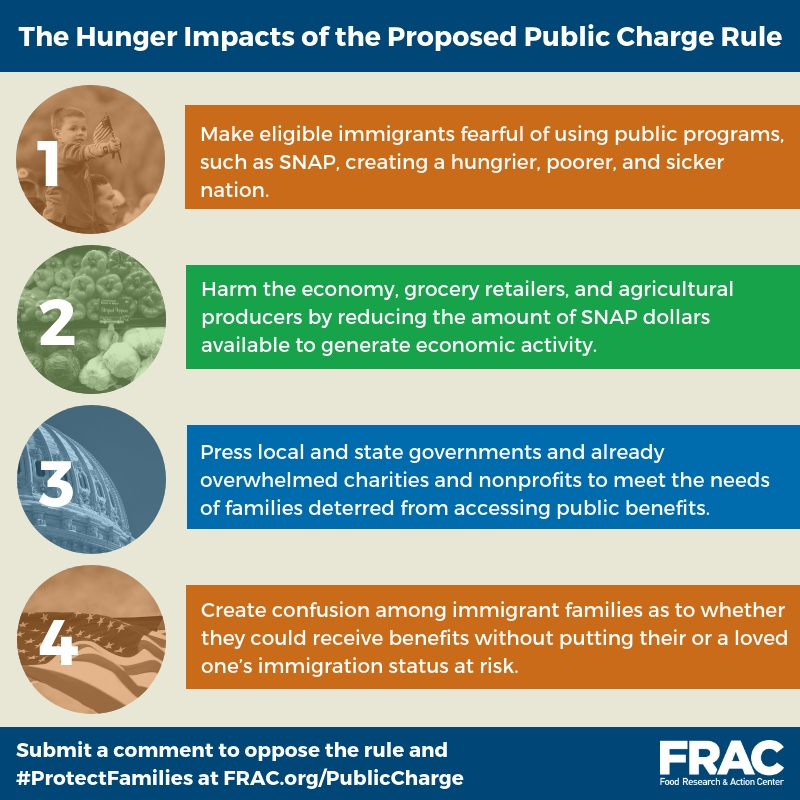 Fortunately, there is time to oppose the rule. Individuals across the nation can submit a comment before December 10, 2018 to urge the Department of Homeland Security to withdraw the rule. FRAC has developed a digital comment platform to ease the process of writing and submitting comments. The platform has resources for crafting your comment to detail how the proposed rule would exacerbate hunger, alongside resources for galvanizing advocates and their networks to denounce the rule.
What's an easy way to begin to mobilize your friends, family members, and others in your circle to submit a comment before the December deadline? Joining National Comment Day! On Monday, November 19, FRAC and hundreds of anti-hunger advocates around the nation will engage in three simple actions to encourage as many individuals as possible to take a stand against the proposed public charge rule:
Write a comment after reviewing FRAC's available resources for ideas and guidance;
Submit a comment using FRAC's digital comment platform; and
Share FRAC's National Comment Day digital resources (using the #NationalCommentDay hashtag) to encourage others to write and submit comments.
This Thanksgiving, as you contemplate all that you have gratitude for, take action with FRAC and others who will stand united in making sure that no one in the United States has to choose between family and food. During National Comment Day and up until the December 10th comment deadline, join the momentum!
Click to tweet: Family or food? No one should have to choose. Join me, @fractweets, & other anti-hunger advocates in submitting a comment in opposition to the Trump Admin's proposed #publiccharge rule on #NationalCommentDay (11/19): http://bit.ly/2RGrnzp #ProtectFamilies
To learn more about the proposed public charge rule and its potential impact, check out resources from the Protecting Immigrant Families campaign, of which FRAC is the nutrition sector lead.