August 7, 2023
The White House National Strategy on Hunger, Nutrition, and Health encourages the health care sector to "screen for food insecurity and connect people to the services they need." A recently released report, Health Care Provider Survey Findings: Addressing Food Insecurity Among Older Adults — Health Care Provider Beliefs, Practices, and Resources, produced by FRAC in collaboration with AARP Foundation, underscores how health care providers are doing just that by screening patients for food insecurity and connecting them to the Supplemental Nutrition Assistance Program (SNAP) and other federal nutrition programs and food resources. 
The report details the findings from a survey of health care providers around the country about their beliefs and practices related to addressing food insecurity among older adults. It also highlights key recommendations for supporting health care providers in this work. 
Top-level findings around screening for food insecurity older adults in health care settings:  
Health care providers believe that they have a role to play in identifying food insecurity and recognize the importance of food security to patient health. Nearly all (99 percent) survey respondents agreed or strongly agreed that screening for food insecurity in a clinical setting is important. 

Health care providers widely screen for food insecurity, and most feel prepared to do so, but many would benefit from increased preparedness. Eighty-eight percent indicated that patients are screened for food insecurity at their practice/hospital.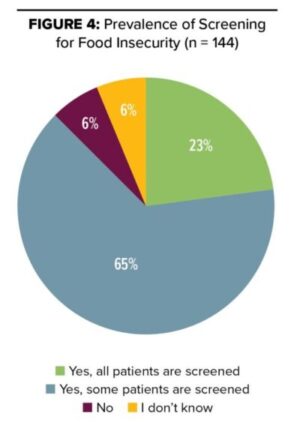 Health care providers widely intervene to address food insecurity, and most feel prepared to do so, but many would benefit from additional assistance. Seventy-four percent of respondents indicated that: their practice/hospital has systems in place and staff assigned to do this work; or they have started this work and are building it out.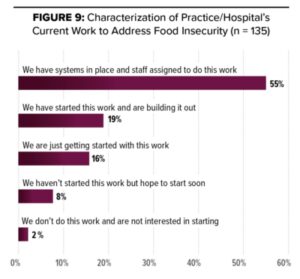 Health care providers recognize the importance of patients being connected to the Supplemental Nutrition Assistance Program (SNAP). Nearly three–quarters of respondents reported that they either, ask patients who may be food insecure if they are participating in SNAP, or ask all patients about SNAP participation.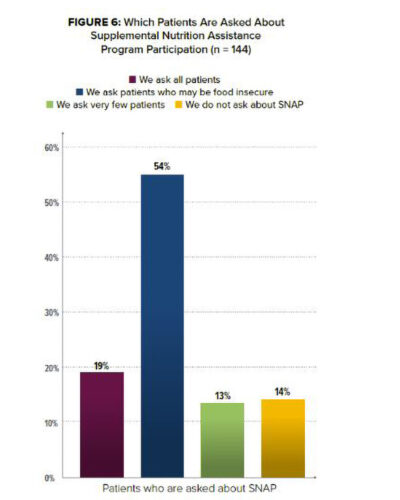 Health care providers face many obstacles in screening for and addressing food insecurity. Respondents reported facing multiple and different types of obstacles that routinely prevent them from screening for or addressing food insecurity.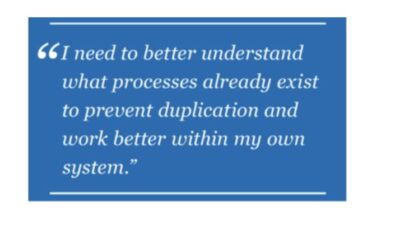 These findings are encouraging about health care providers' involvement in screening and intervening for food insecurity, but also highlight how there is much more work to be done. 
Moving forward, there are key opportunities to support health care providers, whether they are just beginning or are deep into efforts to screen and intervene. Screen and intervene stakeholders—including medical and health associations, nonprofits, researchers, and funders—all have a role to play in supporting health care providers in work to address food insecurity.  
Recommendations: 
Training and Technical Assistance 
Connect health care providers to existing training and technical assistance

. As just one example, FRAC and AARP Foundation offer a free online course

(approved for 1 AMA PRA Category 1 Credit™), available to help educate providers on the basics of food insecurity, its harms to the health and nutrition of older adults, screening practices, and key nutrition programs available to older adults.

 

Develop new opportunities tailored to the varied needs of health care providers.

Key topics identified through this work include: educating on and fostering available community partnerships (e.g., highlighting the importance of active referrals, which are shown to improve access to resources); how to screen and intervene when patients have limited cognitive function; exploring the new Centers for Medicare & Medicaid Services food insecurity and nutrition risk improvement Merit Based Incentive Payment System; and more.

 
Systems Integration 
Provide assistance in integrating screen and intervene efforts into electronic health records, including systems to close the referral loop

. For instance, integration of

tools — such as The Hunger Vital Sign™, which is already built into some electronic health records (under "Hunger Screening"), and the two ICD-10-CM codes (Z59.4 Lack of adequate food, Z59.41 Food insecurity) — can help health care providers to more easily and sustainably document and address the health needs of patients struggling with food insecurity. 
Funding 
Explore opportunities for health care providers to secure funding for their work, as well as support community-based food and nutrition partners.

For instance, a range of health care providers and nutrition providers are leveraging

Medicaid

, Medicare, and other health care funding streams to pay for screening and/or connecting patients to federal nutrition programs and other food interventions like medically tailored meals. 

 
Interested in learning more? Dig in to the details of the survey findings and many more resources related to the above recommendations with the report and this recent webinar featuring AARP Foundation's Jackie Budilov and Dr. Rachel Zimmer, Atrium Health Wake Forest Baptist.