December 6, 2018
During the holidays and all year long, millions of individuals and families who struggle against hunger are able to access healthy food with support from the federal nutrition programs. To celebrate the nation's nutrition safety net, FRAC is releasing a seven-part "Remember This December" series that will highlight the impact of seven important federal nutrition programs.
This is the first installment of the series, which focuses on the Special Supplemental Nutrition Program for Women, Infants, and Children (WIC).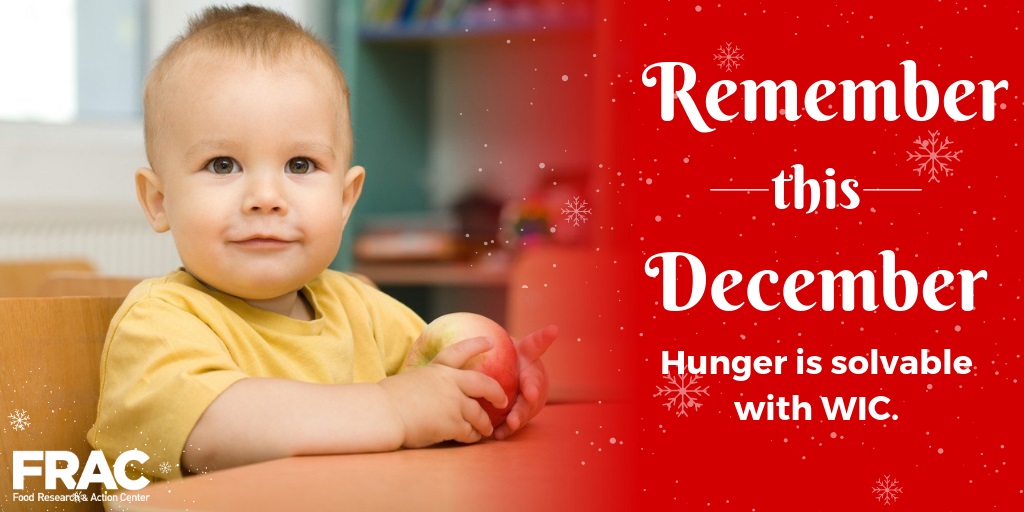 Good health and nutrition are critical at all stages of life, but especially during the earliest years when development is still taking place. WIC provides low-income pregnant women, new mothers, infants, and young children with nutritious foods, nutrition education, and improved access to health care in order to prevent nutrition-related health problems in pregnancy, infancy, and early childhood. Below are essential facts to know about WIC:
Learn more about the program at FRAC.org, and share our "Remember This December" WIC graphic.
Click to tweet: #RememberThisDecember that hunger is solvable with the federal nutrition programs, including #WIC! Learn more about the critical support #WIC provides w/ @fractweets latest blog: http://bit.ly/2zJ1mrO
Watch our video on the importance of the federal nutrition programs.