October 17, 2019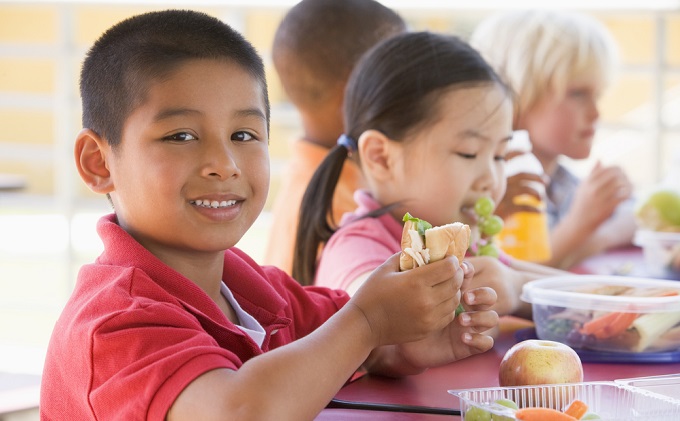 It's National School Lunch Week, and we want to celebrate all the school districts that have adopted community eligibility!
Community eligibility is a powerful tool that allows high-poverty schools to offer breakfast and lunch at no charge to all students, and eliminates the need for school districts to collect and process school meal applications. Schools that implement community eligibility frequently see participation in school breakfast and lunch programs increase, so more children are getting the nutrition they need to learn throughout the day. School staff appreciate the simplified administrative processes that community eligibility provides. With benefits for everyone, it's easy to see why community eligibility is a lunchroom hero.
As of the 2018–2019 school year, 28,614 schools in 4,698 school districts across the country were participating in community eligibility. This number has grown steadily since 2014, the first year that community eligibility was available nationwide. As a result, over 13.6 million students now have access to free breakfast and lunch at community eligibility schools.
School districts big and small, rural, suburban, and urban, are all experiencing the academic, health, and administrative benefits of community eligibility. Southern Local, a small, rural district in Racine, Ohio, is a great example of thousands of community eligibility success stories.
 Southern Local School District recently expanded community eligibility to its two schools. After learning about nearby schools offering free meals to all students, Southern Local wanted to do the same, and adopted community eligibility in its elementary school in the 2015–2016 school year. Administrators went the extra mile to pair community eligibility with breakfast after the bell, a winning combination that helped breakfast participation skyrocket.
In addition to gains in school meals participation, the Southern Local community noticed other benefits accompanying this new program. Schoolwide attendance went up by 2 percent, and students made 100 fewer visits to the school nurse each day. Teachers noticed that students were more alert and engaged in their learning.
After seeing the positive impact of community eligibility in their elementary school, Southern Local leaders worked together to expand it districtwide. According to Scott Wolfe, Southern Local's director of federal programs, the effort to adopt community eligibility districtwide has been worth it because students "can learn better when they're not hungry." Read more about Southern Local's success with community eligibility and breakfast after the bell in their Partners for Breakfast in the Classroom case study.
While seeing community eligibility participation grow in areas like Southern Local is promising, there is still room for the program to expand and reach more students. Currently only 53.8 percent of eligible school districts in the United States are participating in community eligibility. For more information on the adoption of community eligibility nationally and in specific states and opportunities for growth, read FRAC's report, Community Eligibility: The Key to Hunger-Free Schools.
---
If there is a school district in your community that recently adopted or expanded the use of community eligibility, use National School Lunch Week 2019 as an opportunity to raise your hand to highlight the commitment made to keep students well-nourished.
Click to Tweet: On #FRACChat, @fractweets is celebrating all the school districts that have adopted #CommunityEligibility! Learn more about how the powerful tool has been a game-changer in ensuring more kids have access to #SchoolMeals: bit.ly/33yYR7I