June 13, 2019
Participation in community eligibility — a powerful tool for high-need schools to offer breakfast and lunch at no cost to all students while eliminating the need for families to fill out school meal applications — is growing across the nation, according to a new FRAC report released this month. Community Eligibility: The Key to Hunger-Free Schools, School Year 2018–2019 shows that nearly 13.6 million children in nearly 28,500 schools across the country (64 percent of all eligible schools) are using the provision in the 2018–2019 school year.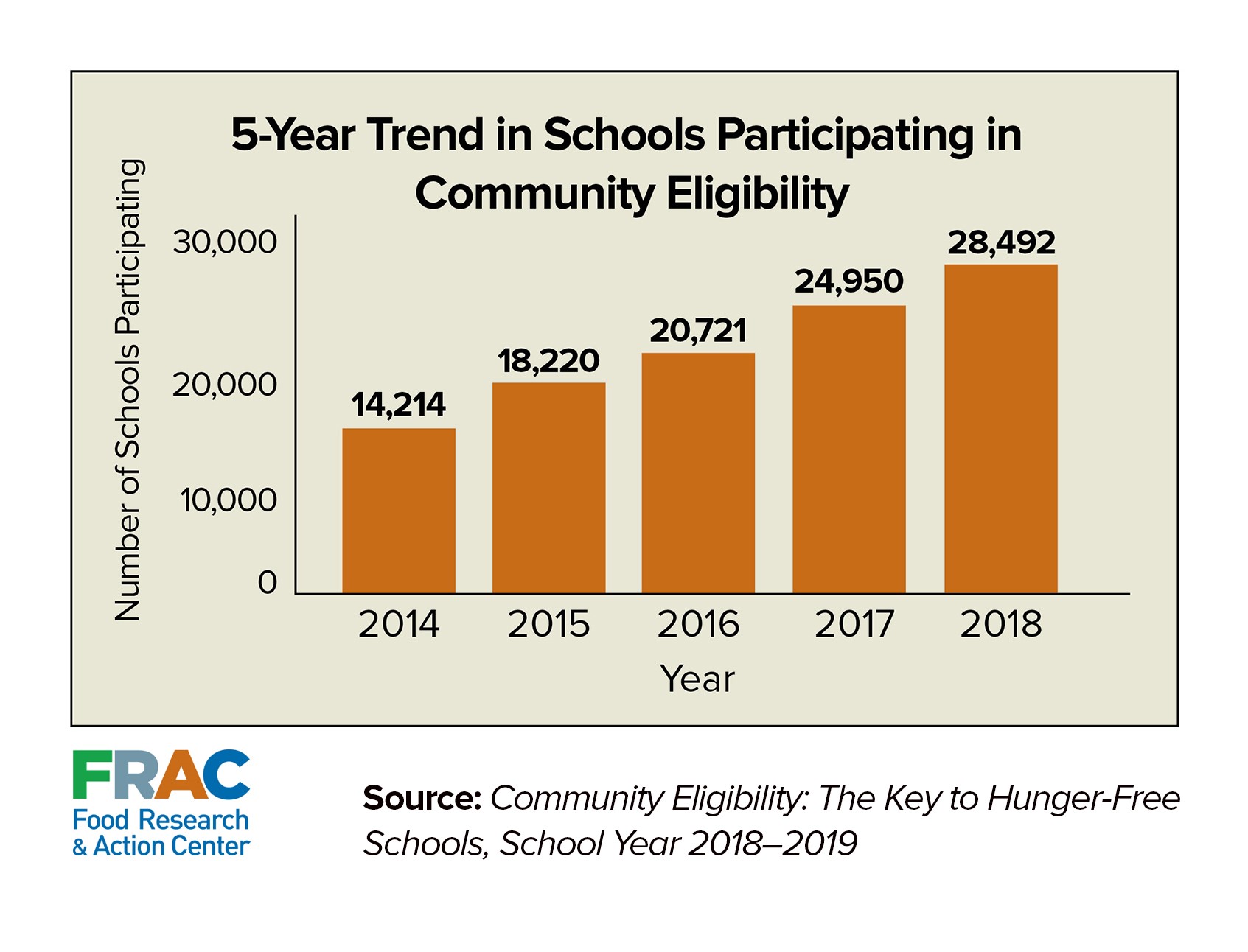 Community eligibility's success has been dramatic. In the 2014–2015 school year, the first year of the provision's nationwide availability, more than 14,000 schools participated. Just four school years later, participation has doubled. Thirteen states have 80 percent or more of their eligible schools participating, and, during the 2018–2019 school year, nine additional states and the District of Columbia had take-up rates of over 70 percent.
Many families continue to struggle with low wages and rely on the National School Lunch Program and School Breakfast Program to help stretch limited budgets. Community eligibility makes it easier than ever for low-income families to access nutritious school meals for their children. By offering meals at no charge to all students, community eligibility reduces the perception that school meals are only for low-income children. Curbing the stigma associated with school meals is crucial for ensuring high-needs schools can successfully provide the nutritious meals all students need to be healthy and have better learning outcomes, attendance, and behavior.
Eligibility for participating is based on the percentage of "identified students" who are certified for free school meals without an application because their household participates in the Supplemental Nutrition Assistance Program (SNAP), Temporary Assistance for Needy Families (TANF), the Food Distribution Program for Indian Reservations (FDPIR), or, in some states, Medicaid. Students who are homeless, migrant, or in foster care or Head Start can also be directly certified for free school meals. School districts can choose to implement community eligibility in individual schools, groups of certain schools, or districtwide.
Many more schools and students could benefit from community eligibility. School districts interested in adopting the provision for the upcoming school year must notify their state agency by June 30, 2019.
For guidance and more information, check out FRAC's blog, FRAC 101: How Advocates Can Successfully Conduct 2019 Community Eligibility Outreach. School districts can use FRAC's resource, State Lists of Schools That Can Adopt Community Eligibility for SY 2019 – 2020, to find state-specific lists of schools that are eligible to participate in community eligibility.
Visit FRAC's community eligibility webpage for additional resources.