April 12, 2019
Across the country, millions of older Americans struggle against hunger. These seniors experience a range of challenges — they include running out of food, or having to choose between buying food and purchasing medicine or choose between food and rent — that can lead to poor health and nutritional outcomes.
As people age, they should be able to look forward to living healthy, happy, and hunger-free lives, not lives burdened by food insecurity. Fortunately, solutions are available for addressing senior hunger, and one of the most effective solutions is the Supplemental Nutrition Assistance Program (SNAP).
SNAP is a vital resource for combatting hunger and
improving nutrition, health, and economic security
. Even as overall SNAP participation has decreased in recent years, seniors have continued to show that SNAP matters to them: between fiscal years 2013 and 2017, SNAP participation among households with seniors increased by approximately 25 percent.
These gains are cause for celebration, but more work needs to be done.
Around the nation, millions — nearly 3 in 5 — of eligible seniors aren't accessing SNAP and its wide range of benefits. Why? Many SNAP-eligible seniors aren't aware of the program, may feel stigma about receiving food assistance, or have difficulty navigating the application process.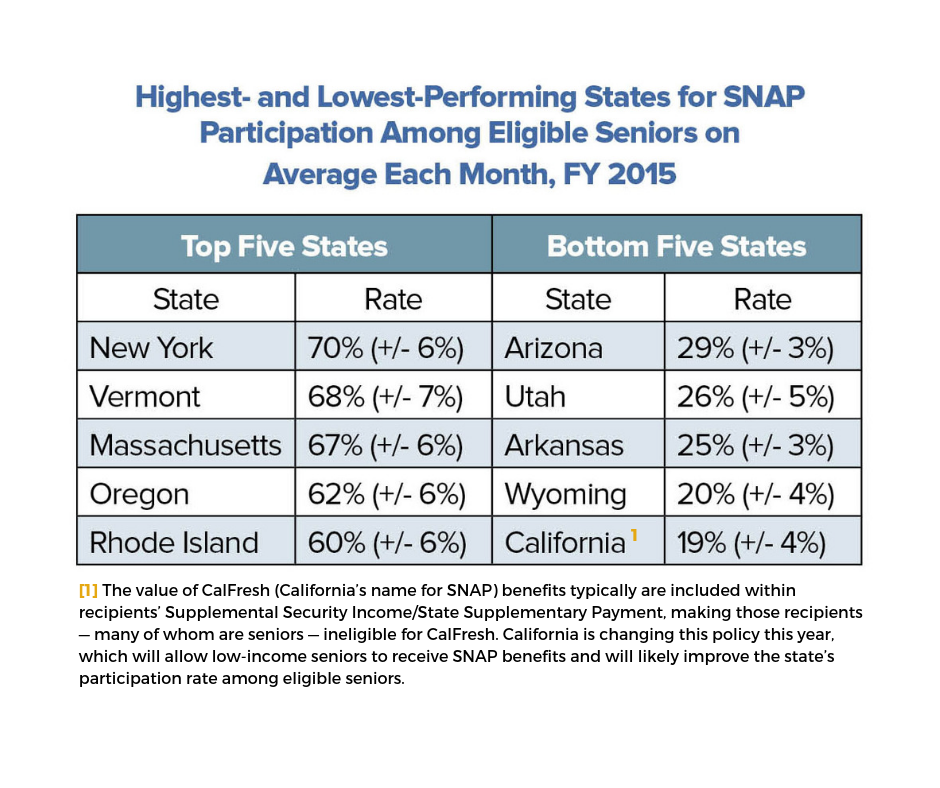 As reflected in FRAC's new interactive data tools, launched in collaboration with AARP Foundation, more needs to be done in every state to connect additional eligible seniors to SNAP. In 15 states and the District of Columbia, the rates of SNAP participation among eligible seniors were higher statistically than the national rate of 42 percent, while 25 states had rates that were lower statistically than the national rate. The data demonstrate that while participation rates among eligible seniors vary across the country, all states have substantial room to grow senior SNAP participation.
What can be done to boost senior SNAP participation? States, localities, health care providers, social service agencies, and nonprofit organizations can work to close the senior SNAP participation gap by adopting and promoting available best practices to reach more seniors with information about the availability and benefits of SNAP.
Use FRAC's new interactive tools to begin to take action to ensure that more food-insecure seniors in your state are able to put food on the table with SNAP.