April 16, 2021
A recent "NCSEA On Location" podcast, sponsored by the National Child Support Enforcement Association, focused on how the child support program and the Supplemental Nutrition Assistance Program (SNAP) work to address food insecurity within families. In general, child support refers to the ongoing payments made by one parent to another parent to provide financial support for a child.
The episode, "Child Support – A Tool to Enable Families and Their Children to be Food Secure," was moderated by Pat O'Donnell of YoungWilliams, and they interviewed panelists Ellen Vollinger from FRAC and Patty Dushuttle and Tony Pelotte from the Maine Department of Human Services. 
This blog highlights some of the key points from the podcast, and then digs deeper into SNAP's importance for children and ways to strengthen the program. 
Child Support Program Impacts
The child support program is one of the largest income support programs for families, serving more than 1 in 5 children in the United States and providing 41 percent of family income to low-income families who receive support payments. The program reduces poverty among children and custodial parents, promotes parental responsibility and involvement, and improves children's educational outcomes. The program lifts 1 million people out of poverty each year, and reduces use of Temporary Assistance for Needy Families (TANF) benefits.
Child support payments, like SNAP allotments, have the advantage of giving households the dignity, respect, freedom, and autonomy to use normal streams of commerce to purchase the items or services (or food, in the case of SNAP) that meet their families' needs and preferences. According to Dushuttle, "the SNAP-Ed[ucation] program is a tremendous example of this … The SNAP program requires all states to implement nutrition education for families, and they do that through the SNAP-Ed program. I believe that in this approach the SNAP program has really held to its position that teaching healthy choices, rather than dictating what those purchases can be, is crucial."
SNAP's Strengths for Children
SNAP serves as the first line of the nation's public policy defense against hunger and undernutrition. The program has a substantial reach and touches a large proportion of children and their families. In fiscal year 2019, about 4 out of every 10 SNAP participants were children. In addition, researchers estimate that half of all of American children will receive SNAP at some point during childhood. 
Decades of research demonstrates that SNAP is a profoundly important anti-hunger and anti-poverty program for infants, toddlers, and children. The program also has short- and long-term benefits for infant and child health and well-being, as highlighted in the graphic below.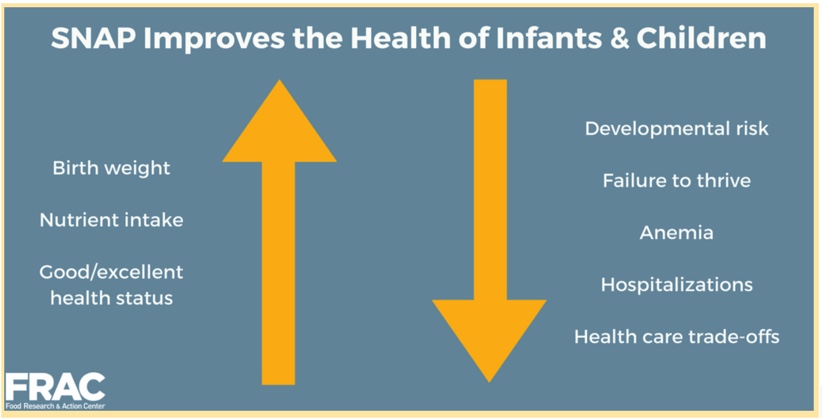 Improving SNAP Benefit Adequacy Will Enhance SNAP's Effectiveness
The monthly benefits provided by SNAP enhance the food-purchasing power of eligible low-income individuals and families. However, the greatest shortcoming of SNAP is that benefits for most households are not enough for them to get through the entire month without being hungry or being forced to sacrifice nutrition quality. 
The inadequacy of SNAP benefits and additional gaps in SNAP were raised by Vollinger during the podcast, and then reinforced by other panelists. According to Pellotte, "I think Ellen's gaps are very relevant to what I see here in Maine … On Ellen's points, certainly we have learned a lot [during the pandemic] … about the SNAP benefit amounts being less adequate for families in need …"
The harm from benefit inadequacy is evident in studies that examine end-of-the-month effects, i.e., the adverse impacts on dietary quality, health, behavior, and learning when SNAP benefits, which are inadequate to last the whole month, are running low for households. For example, among children, the exhaustion of SNAP benefits at the end of the benefit cycle may contribute to lower math and reading achievement test scores and a higher number of disciplinary infractions. 
Conversely, more adequate SNAP benefits improve participant food security, economic security, nutrition, health, and performance in school. A growing body of research shows that increased SNAP benefits reduce health care utilization and costs.
Strategies to Improve SNAP Benefit Adequacy
There are multiple policy solutions to improve the adequacy of SNAP benefits. For instance, FRAC and the Institute of Medicine (IOM) have outlined the many factors that explain why SNAP benefits do not get most families through the month. According to FRAC's analysis, SNAP benefits are inadequate, in part, because they are based on the U.S. Department of Agriculture's (USDA) impractical, outdated, and flawed Thrifty Food Plan. The Thrifty Food Plan is the current basis for SNAP allotments and is one of four food plans developed by USDA.
To improve SNAP benefit adequacy, FRAC has long called for replacing the Thrifty Food Plan with the Low-Cost Food Plan, which is generally more in line with what low- and moderate-income families report they need to spend on food, as opposed to the lower amount provided by the Thrifty Food Plan. The Low-Cost Food Plan also allows for greater food variety and choices to support a healthful, palatable diet. A number of legislative proposals have been offered in the past to replace the Thrifty Food Plan with the Low-Cost Food plan, and FRAC is hopeful that such legislation will be introduced during the current Congress. 
An alternate strategy, also long-recommended by FRAC, is for USDA to study, redefine, and rebudget the Thrifty Food Plan as an adequate food plan with a higher SNAP allotment amount to purchase it. That recommendation is now becoming a reality. Congress instructed USDA to update the Thrifty Food Plan in the 2018 Farm Bill, yet no action was taken. But earlier this year, President Biden issued an Executive Order that, among other matters, directed USDA to revise the Thrifty Food Plan as described in the 2018 Farm Bill. In short, USDA has the opportunity to revise the Thrifty Food Plan so that it more accurately reflects the true costs and realities of maintaining a nutritious diet with limited resources .
Listen to the podcast to learn more about child support and SNAP, and check out FRAC's website to learn more about SNAP's strengths and the inadequacy of benefits.