During the summer months, millions of low-income children across the country lose access to the free and reduced-price school meals on which they rely during the regular school year.
Federally funded summer meals play a critical role in closing the hunger gap and supporting the operations of summer programs, which keep low-income children healthy, learning, and engaged during summer vacation. The federal Summer Nutrition Programs, which include the Summer Food Service Program (SFSP) and the National School Lunch Program (NSLP), help close this hunger gap and reduce the summer 'learning slide' that too many children experience.
FRAC's Hunger Doesn't Take a Vacation report, released this month, finds that 3 million children participated in the Summer Nutrition Programs on an average weekday in July 2016.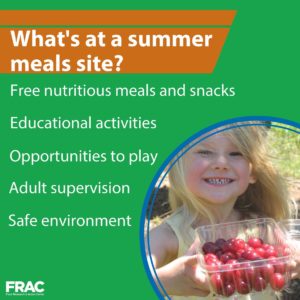 After four consecutive years of growth in participation, 153,000 — or 4.8 percent — fewer children were served summer meals compared to the previous summer. Even as participation in the Summer Nutrition Programs dropped, school-year participation in NSLP had increased by 119,000 low-income children, meaning the Summer Nutrition Programs met an even smaller share of the need.
In its report, FRAC sets an ambitious, but achievable, goal of reaching 40 children with the Summer Nutrition Programs for every 100 participating in school lunch. Nationally, on an average summer day in July 2016, the Summer Nutrition Programs served only 15 children for every 100 low-income children who participated in the NSLP during the regular school year.
In addition to providing necessary nutrition when the school year ends, the Summer Nutrition Programs also can bring millions of dollars to states. For every lunch that an eligible child does not receive, the state and community miss out on $3.69 (rounded up to the nearest penny) in federal Summer Food Service Program funding.
That means millions of dollars are being left on the table by almost every state.
The need to redouble efforts to reach more children with the Summer Nutrition Programs cannot be overstated. Investments at the federal, state, and local levels to support more high-quality summer programming for low-income children will make it easier for sponsors to support children year-round and to serve the children healthy summer meals, and will mean less hunger. Continued and greater investments at the federal level to the Summer Electronic Benefits Transfer for Children (SEBTC) program will ensure low-income children receive the nutrition they need during the summer months even when Summer Nutrition Programs are out of reach.
Despite the decrease in participation on a national level, 22 states grew participation from 2015 to 2016, with eight growing by 10 percent or more. Successful strategies that can be replicated in other states include conducting outreach, developing creative partnerships with public agencies and nonprofits, increasing mobile meal sites, and passing state legislation that fosters more sponsors and sites. The U.S. Department of Agriculture's (USDA) continuing leadership and investment in the nutrition programs, through its "One More Challenge" initiative, for example, also will be critical to increasing the reach of the Summer Nutrition Programs.
FRAC is committed to working with the USDA, state agencies, advocates, and school districts to reverse 2016's downward trend and provide more children with the summer nutrition they need to return to school in the fall, healthy and ready to learn. Take advantage of FRAC's resources and research to increase summer meals participation in your state and local community.