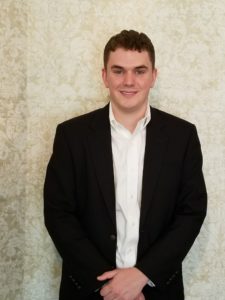 A native of northern Virginia, Thomas Blount graduated from the University of North Carolina at Chapel Hill in May 2016. He joined the Food Research & Action Center (FRAC) in January as a communications intern, and plans to attend graduate school for public health in the near future.
I joined FRAC's communications team with the hope of learning more about public health policy and advocacy and the nonprofit sector more generally.
My internship has been deeply rewarding. Every day I learn from my colleagues, and through the research I do as part of my position, about the importance of the federal nutrition programs in reducing hunger and improving the health of millions of Americans.
This spring, I had the opportunity to meet and interact with anti-hunger advocates from all over the country at the 2017 National Anti-Hunger Policy Conference. From participating in dialogues on racial justice and food insecurity to getting tips from experts on messaging to Members of Congress, the conference highlighted for me the important role that advocates play in protecting programs such as the Supplemental Nutrition Assistance Program (SNAP, formerly known as food stamps), the Special Supplemental Nutrition Program for Women, Infants, and Children (WIC), school meals, afterschool and summer meals, and child care food.
As part of the communications team, I have been involved in coordinated advocacy efforts, such as the recent push to end school lunch shaming policies. As a result of sustained media outreach, online momentum, and the expertise of FRAC school meals program experts and FRAC's partners, New Mexico's landmark legislation passed and has inspired similar bills in other states, as well as Congressional action.
Learning the ropes of media relations and having the opportunity to be involved in other aspects of FRAC's communication efforts has helped me improve my writing skills and figure out how to translate complex ideas into easy-to-understand language for multiple audiences — all toward the goal of ending hunger.
Beyond the professional skills I have learned at FRAC, the biggest takeaway has been the inspiration that comes from working with people who are incredibly knowledgeable and passionate about what they do. The commitment of FRAC staff to the organization's mission inspires me to pursue a career that will allow me to contribute to society in an honest and impactful way.
My experience as a FRAC intern will inform the way I approach public health in future jobs and when I return to school to pursue a Master's degree in the field. I look forward to continuing the fight against hunger and poverty as a more knowledgeable, dedicated advocate.
Join FRAC in our efforts to protect and strengthen federal nutrition programs.