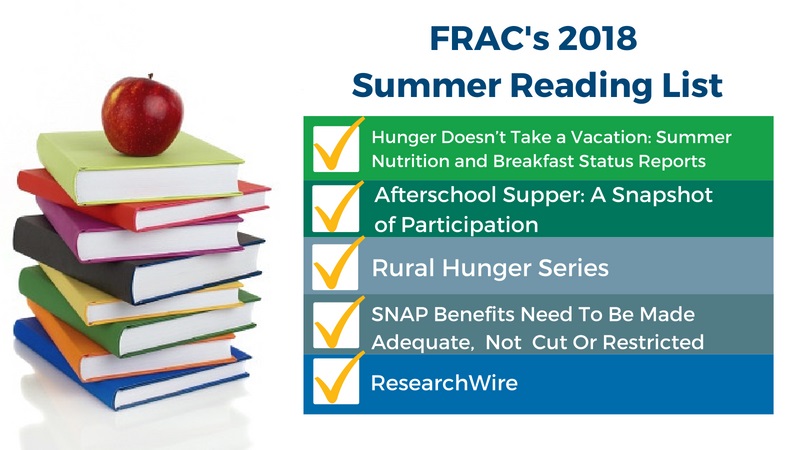 Stay informed with FRAC's latest research, reports, and other resources that will help anti-hunger advocates keep up the good fight this summer and all year long.
Hunger Doesn't Take a Vacation: Summer Nutrition (pdf) and Summer Breakfast (pdf) Status Reports
When the school bell rings to mark the beginning of the long summer recess, millions of low-income children lose access to the school breakfasts and lunches they rely on during the school year. In its annual reports, FRAC measures the reach of the Summer Nutrition Programs nationally and state-by-state in July 2017, compares it to 2016, examines the impact of trends and policies on program participation, and shares best practices for increasing and expanding participation in the Summer Nutrition Programs. The summer breakfast report is a companion piece that measures the reach of summer breakfast through the Summer Nutrition Programs in July 2017.
Afterschool Suppers: A Snapshot of Participation (pdf)
Nearly 1.1 million low-income children benefited from afterschool suppers in October 2016, up from just 200,000 in October 2011. In its first-ever report on participation data in the Afterschool Nutrition Programs, FRAC measures the reach of the Afterschool Supper Program, focusing on participation in October 2016, nationally and in each state. Based on a variety of metrics, this report examines the impacts of trends and policies on afterschool supper program participation and is essential reading as schools gear up for the 2018–2019 school year.
Rural Hunger Series
FRAC, with the support of Smithfield Foods, released a series of fact sheets on rural hunger as part of the Rally Against Rural Hunger initiative, which is an effort to raise awareness about rural hunger and to connect eligible rural people across the country with federal food assistance programs so they may get the nutrition they need for their health and well-being. The foci of these resources are on rural hunger in the areas of SNAP, school breakfast, afterschool meals, and summer meals.
SNAP Benefits Need To Be Made Adequate, Not Cut Or Restricted (pdf)
Imagine you are one of the more than 40 million Americans who rely on SNAP to put food on the table and you need to stretch the average monthly allotment to achieve a minimally adequate diet. Now imagine being told you can only buy certain items. That's what will happen if some policymakers have their way and restrict certain foods from being purchased through SNAP. Despite SNAP's long list of achievements, numerous, sometimes contradictory efforts to restrict food choice have been proposed, but there are better policy solutions to improve SNAP beneficiaries' health.
ResearchWire (pdf)
This e-newsletter by FRAC focuses on the latest research and reports from a variety of sources (such as government agencies, academic researchers, think tanks, and other areas) that look at the intersection of food insecurity, poverty, the federal nutrition programs, and health. In the April issue, research highlights include the antipoverty effects of SNAP, cost-related medication nonadherence for older adults participating in SNAP between 2013–2015, and much more.
Be sure to bookmark FRAC Chat for your daily dose of reading material all year long.