August 1, 2019
 FRAC On the Move is a series that follows FRAC's policy and program experts as they connect with advocates across the country to explore strategies and develop solutions to end hunger.
 In this installment, Susan Beaudoin, FRAC's Special Projects and Initiatives Associate, writes about presenting on grandfamily hunger and the federal nutrition programs at the 2019 Intergenerational Conference in Portland, Oregon. The conference, hosted this year by Generations United and Bridge Meadows, brought together leaders, educators, and advocates to learn, network, and share innovative practices and programs in the intergenerational field.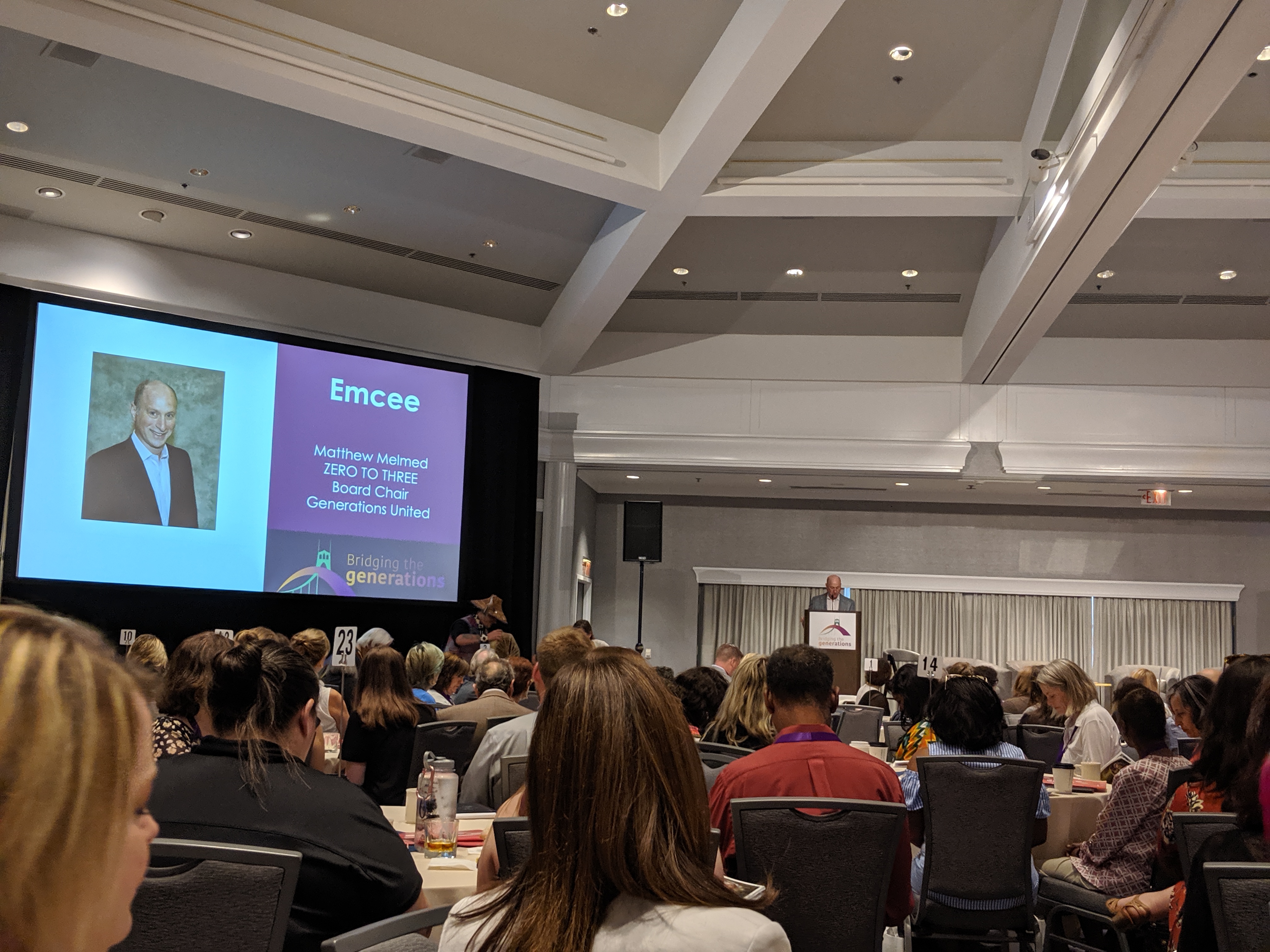 With a rapidly growing body of research, we are now more aware than ever of the short- and long-term harms that food insecurity has on nutrition, health, and well-being. Last month, during the 2019 Intergenerational Conference, I had the opportunity to explore an important piece that's often missing from research and conversations on food insecurity: the experiences of families in which children and older adults together are present, specifically the unique challenges faced by "grandfamilies."
Grandparents and other older adult caregivers are increasingly stepping up to raise the children in their lives. Across the nation, nearly 2.6 million grandparents have taken on caring for grandchildren. Despite numerous positive outcomes for children and caregivers alike, grandfamilies often face many challenges, including financial struggles. In fact, many caregivers are over 60, retired, or living on a fixed income, which are all factors that can make taking care of a child — and the many accompanying expenses — more difficult.
Such challenges can leave grandfamilies vulnerable to conditions like poverty and food insecurity, and these types of struggles surfaced time and again at the 2019 Intergenerational Conference, including during a session co-developed by Generations United Deputy Executive Director Jaia Lent and me.
During our session, Jaia and I
Throughout our session, and during other moments at the conference, the same idea was elevated: There's still much to learn about the experience of grandfamilies, and grandfamilies need to be engaged at every step of the way.
While there's still much more work left to be done to help struggling people, especially grandfamilies, meet their basic needs, I'm energized by the fact that there are many passionate advocates across the nation working on strategies to better help grandfamilies.
---
Learn more about why fighting against poverty and food insecurity among grandfamilies, and other populations, should be a top priority for us all at FRAC.org.
Click to Tweet: For #FRACChat, @fractweets expert Susan Beaudoin summarizes her time at the @GensUnited @BridgeMeadows 2019 Intergenerational Conference, where an often-forgotten topic was discussed: the experiences of grandfamilies navigating hunger and poverty bit.ly/2Yys4g6