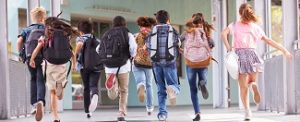 Schools across the country are celebrating the fifth annual Every Kid Healthy Week (EKHW) this week. EKHW is an opportunity for schools, families, volunteers, and community organizations to mark their accomplishments in creating healthier school environments for students. More than 3,500 schools and 2 million students, school staff, and community volunteers have celebrated EKHW since it launched in 2013. FRAC is proud to partner with Action for Healthy Kids for this important weeklong celebration.
Through a variety of physical activities and nutrition-themed events — such as taste tests of healthy foods, school breakfast challenges, planting school gardens, renovating school playgrounds, and more — schools demonstrate their commitment to improve school foods, nutrition education, physical activity, and physical education for all students, and increase the impact that these programs have on student health and academic performance.
The nutrition provided through the national school breakfast and lunch programs is particularly important for the millions of students from low-income families who rely on these programs for healthy meals. The updated nutrition standards for school meals mean that students are getting more fruits, vegetables, and whole grains. School meals help their bodies grow and stay healthy and their minds to focus and concentrate throughout the school day.
Celebrating the important role the school nutrition programs play in improving the health of students also shines a spotlight on the work needed to increase student participation in school breakfast, which serves just over half of the low-income students who participate in school lunch. Schools across the country are growing their breakfast participation by implementing breakfast after the bell models such as breakfast in the classroom or "grab and go," and more schools can take these steps to ensure that their students are experiencing the health and educational benefits of school breakfast.
Another way to increase school breakfast participation, as well as school lunch participation, is through community eligibility, a paper work saving option for high-need schools to offer free breakfast and lunch to all of their students. This school year, the third year of nationwide availability, the number of high-need schools participating in community eligibility continues to grow. More than 9.7 million children in over 20,000 schools and 3,500 school districts are participating and now have access to breakfast and lunch at no charge each school day. This is something to celebrate!
Join the EKHW celebration online by sharing photos and information about events held this week, using the hashtag #EveryKidHealthy.