Racial justice is integral to the fight against hunger and poverty. 24.1 percent of Black Americans were poor in 2015, the highest of any racial demographic group in the U.S. Additionally, Black households, particularly those with children, experience substantially higher rates of food insecurity than the national average.
In recognition of Black History Month, FRAC acknowledges the importance of intersectional approaches to ending hunger and poverty in the U.S. and honors the legacy of Black leadership on these issues.
Here are four memorable quotes from inimitable Black civil rights, anti-hunger, and anti-poverty advocates, meant to provide inspiration for taking action to end hunger and poverty in your community.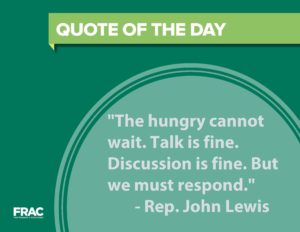 John Lewis (D-GA), the esteemed civil rights leader and long-serving Congressman, has a long history of activism against injustice. Lewis penned the quote above in his memoir, Walking with the Wind: A Memoir of the Movement. Always an eloquent speaker, Lewis has demonstrated throughout his career that words, while powerful, must be accompanied by action to drive change.
"You don't make progress by standing on the sidelines, whimpering and complaining. You make progress by implementing ideas."
Many Americans know the Honorable Shirley Chisholm as the first African-American woman to be elected to Congress in 1968. Paving the way for Black women in U.S. politics, Representative Chisholm (D-NY) also played an essential role in the creation of the Special Supplemental Nutrition Program for Women, Infants, and Children (WIC), ensuring that low-income mothers everywhere could access free, healthy food for their young children.
"I grew up on a Christian ethic which says we are supposed to help the least of our brothers."
Representative George Thomas "Mickey" Leland (D-TX) was one of the co-founders of the House Select Committee on Hunger, and the namesake of the 1993 Mickey Leland Childhood Hunger Relief Act that strengthened the Supplemental Nutrition Assistance Program (SNAP). His support of federal nutrition programs made a lasting impact on the importance of protecting these essential safeguards against hunger.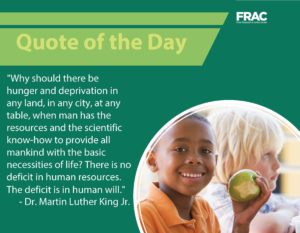 The foremost civil rights leader of the 20th century, Dr. Martin Luther King Jr., recognized the struggle against hunger and poverty as fundamental to the fight for equality and justice for Black Americans.
Building political will to protect federal nutrition programs and strengthen effective solutions to hunger is a necessary step to make sure no Americans are left behind on the path to progress and prosperity.