By Lisa Sauder, Executive Director of Bean's Cafe, a soup kitchen and day shelter in Anchorage, Alaska
Alaska has over 78,000 veterans, giving us the highest percentage of veterans in the nation. We also have many challenges when it comes to food security. The sheer size of our state (633,000 square miles) and the fact that many rural communities are only accessible by small plane, boat, dog sled or snow machine magnifies issues seen throughout what Alaskans refer to as "the lower 48."
A gallon of milk in rural Alaska can sell for as a much as $13 and one can pay up to $22 for a bag of apples. Not all of our veterans reside in rural Alaska, but prices in major cities are also substantially higher.
This, combined with the range of challenges faced by many of our veterans, certainly leads to frequent and serious hunger issues.
Since 1979, Bean's Cafe has served the hungry and homeless and provided referrals to services. We work closely with our local Veterans Administration representatives to link our clients to much needed resources. On a busy day our facility will serve over 940 meals to over 500 people, including about 50 veterans.
Currently in Alaska, only about 5 percent of veterans are receiving Supplemental Nutrition Assistance Program (SNAP, formerly known as food stamps) benefits. While not all veterans are in need of this type of assistance, many are eligible but still not able to access this valuable resource. They would benefit greatly from this type of assistance. Continued support of local anti-hunger advocates and federal programs such as SNAP is critical to those who served our country in our armed forces.
Hunger is not a political issue. A hungry person, veteran or otherwise, needs to have their basic need for food security satisfied before they can move on to tackling other issues.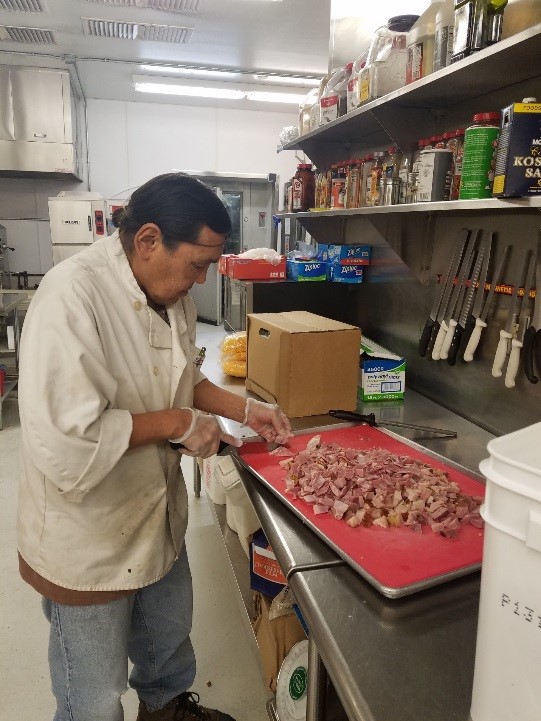 This is Anthony, one of our clients for over a decade. A veteran who has faced multiple hardships, he volunteers almost every day in our kitchen. His long term-goals are to find a companion, stay clean and sober, and return home to the Northern Alaska village he is from. Knowing where his next meal was coming from helped him to be able regain stability in his life.
Every year on Veteran's Day we provide a special meal, decorations and thanks to our clients who have served in the military. It is important to remember how many veterans won't even have a small celebration or a hot meal tomorrow to thank them for their service.
In a country with the resources we have, this is not acceptable. I urge you to support your local organizations and reach out to your elected officials and urge them to protect and strengthen critical programs like SNAP to ensure veterans get the nutrition they need for a healthy, brighter today and future.
Veterans fought for our country. They shouldn't have to fight against hunger.