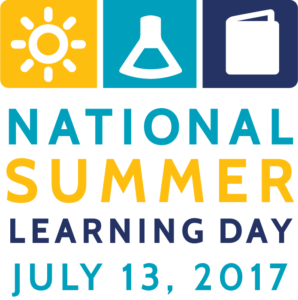 In this guest post, Rachel Gwaltney, director of policy and partnerships at the National Summer Learning Association, highlights the connection between summer programming and summer meals, and the benefits of both in preventing learning loss and hunger.
What is Summer Learning Loss?
Summer learning loss is the unraveling of the knowledge and skills that students gain during the school year, causing them to return to school unprepared. Students can lose one to three months of learning over the course of the summer, with math skills particularly impacted. Quality summer programs that provide educational and enrichment opportunities can help curb summer learning loss, but for many children, programming is unavailable or too costly.
Whom Does Summer Learning Loss Impact?
Summer learning loss particularly affects low-income children, leaving them academically behind their higher-income peers. Most students experience some learning loss over the summer months, but the severity is largely determined by a family's household income and the availability of summer enrichment programs. Summer academic programs, camps, and athletic activities are often a given for families who are able to afford them, while low-income families frequently face barriers, such as the cost of enrollment and lack of access to transportation.
With each summer that a child does not have access to a quality summer program, he or she falls further behind higher-income peers who participate in summer programs. By the end of fifth grade, students who do not participate in summer learning opportunities can fall as far as three grade levels behind. It is also more likely that children who experience summer learning loss will not earn a high school diploma or pursue a college education.
Expanding summer program opportunities can ensure that more children stay on track, graduate from high school, and continue on to college.
What is the Relationship Between Summer Programs and Summer Meals?
Many of the children affected by learning loss also face a nutrition gap during the summer months. Children who rely on school breakfast and lunch and afterschool meals during the school year lose access to those nutritious meals, and their families often struggle to fill the gap. Summer programs provide the platform for summer meals, which ensure that children have the nutrition they need to focus and learn throughout the day. Summer programs rely on federal Summer Nutrition Program dollars to provide these meals to eligible children; this allows slim program budgets to be dedicated to learning and enrichment activities.
What are the Solutions?
Summer enrichment must be more accessible. Public funding at the federal, state, and local levels is necessary to ensure low-income children's access to summer programs. The 21st Century Community Learning Center program, the largest federal funding source for summer and afterschool programs, served only 1.6 million children in 2016. The president's fiscal year 2018 budget proposes eliminating its funding, but Congress should continue to support and invest more resources into the 21st Century Community Learning Centers.
State afterschool networks can be strong partners in expanding access to summer meals at summer learning and enrichment programs. Advocates can work with their state afterschool network to develop policies that support and sustain quality learning opportunities when school is not in session. These networks also can help with outreach, since many have relationships with program providers.
What is an Example of an Innovative Program to Grow Summer Learning and Serve Meals?
Across the country, thousands of quality summer programs are providing nutritious meals to children through the Summer Nutrition Programs, which served 3 million children in 2016, according to FRAC's Hunger Doesn't Take a Vacation report. In New Britain, Connecticut, for example, the school district partnered with community-based organizations to start the Summer Enrichment Experience. This program offers traditional and experiential learning opportunities, and summer meals, to 600 children. Sixty percent of participating children start the new school year on target.
Find summer resources for students, families, programs, communities, and leaders at summerlearning.org.