October 23, 2020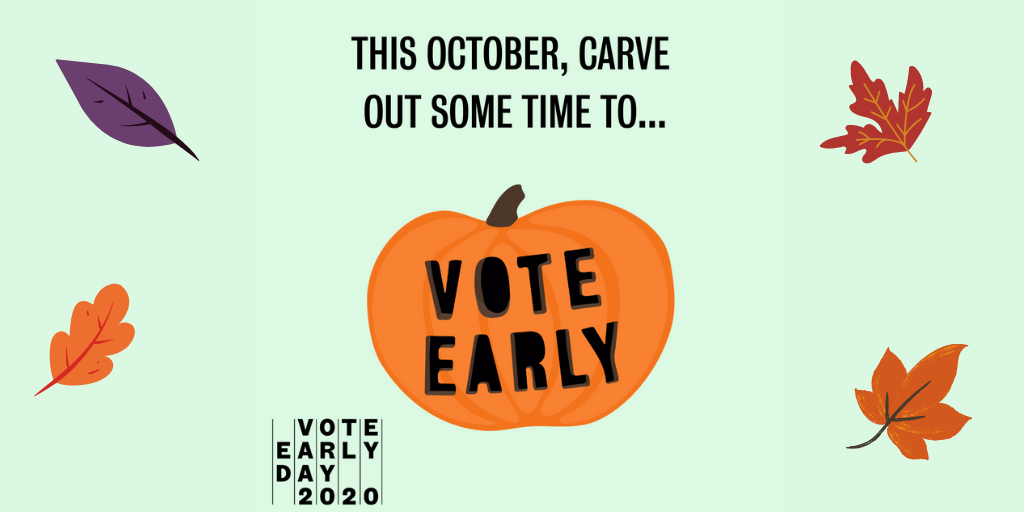 Check out FRAC's Get out the Vote Toolkit
With the COVID-19 pandemic's dual health and economic crises, natural disasters, and voter suppression — both subtle and overt — voting in 2020 could be more complicated than ever for people around the country.
Fortunately, there is also much opportunity, with the availability of absentee and mail-in ballots, in-person early voting in many states, and communities across the country coming together to ensure a healthy and robust election process.
In the final stretch before Election Day, there are key ways 501(c)(3) anti-hunger organizations and other trusted community organizations can support these nonpartisan efforts and ensure people in their community exercise their right to vote. Engaging in nonpartisan Get Out the Vote activities is a prime way to support democracy in permissible and meaningful ways.
Encourage members of your community and your staff to vote by leveraging your social media, newsletter, and other communication channels to
Celebrate Vote Early Day on October 24th. Join Vote Early Day partners in helping people get the information they need to vote early, and promoting the benefits of voting before Election Day. Voting early, among other benefits, helps ensure last-minute problems don't prevent a ballot from being cast and helps shorten Election Day lines for all voters.
Educate people on the voting process. Sharing information about how, when, and where to vote — such as where to find information about polling place locations, and hours, deadlines for voting, and how to check what's on the ballot — is a great and 501(c)(3)-friendly way to help Get Out the Vote. When people have the information they need, it demystifies the voting process and increases the chances they'll vote.
Alert people to the election protection line. People can call the election protection line to get on-demand, nonpartisan help with voting questions and voting rights. Promote this important resource to help counter voter suppression and ensure people have the information they need to vote. Lines are available in a variety of languages: English (866-OUR-VOTE), Spanish/English (888-VE-Y-VOTA), Arabic/English (844-YALLA-US), Asian Languages/English (888-API-VOTE) Learn more at 866OurVote.org.
Share your stance on a ballot measure. 501(c)(3) organizations cannot support or oppose candidates or political parties. They can, however, support or oppose ballot measures. If your organization has weighed in on a ballot measure, now is a great time to ensure your community is aware of your position.
Nonpartisan Get Out the Vote efforts can help ensure that people in your community are energized and ready to exercise their right to vote. We hope you'll join us in this important work to promote voting and support our democracy.
Are you ready to get started? FRAC has developed sample social media posts and graphics to help you Get Out the Vote. And stay tuned to @fractweets for photos of FRAC staff celebrating voting!
Looking for additional resources for organizations and individuals? Check out Coalition on Human Needs' vote for human needs.
Make sure to check out Alliance for Justice's Bolder Advocacy for guidance on permissible election-related activities for 501(c)(3) organizations.