August 24, 2023
Lack of access to food is a major concern when natural disasters strike.  
As we head into September, which is National Disaster Preparedness Month, there have been 15 confirmed weather-related disasters in the U.S. this year – with losses exceeding $1 billion each.[1] This includes the devastating wildfires in Hawaii and California, the heavy rains that caused landslides and unprecedented flooding in Vermont and New Hampshire, and the drought conditions impacting numerous Midwestern states. Overall, these events have resulted in the loss of lives, homes, property, and food, causing significant economic effects on the impacted areas. 
Disaster SNAP (D-SNAP) and other federal nutrition programs play a critical role in mitigating spikes in food insecurity during such challenging times. This is due to their ability to expedite and strengthen the response to disasters of various types.   
D-SNAP

provides

replacement benefits for S

upplemental

N

utrition

A

ssistance

P

rogram (SNAP)

households that lose food

and

extends benefits to many other households that would not ordinarily be eligible for SNAP.

 

SNAP

w

aivers can allow individual SNAP recipients who lose food in a "household misfortune" to obtain replacement benefits if they report the loss within

10 days

. In past disasters, waivers granted by

the U.S. Department of Agriculture (

USDA

)

have temporarily relaxed verification requirements

;

temporarily lifted restrictions on populations, such as students

;

extended the usual 10-day

time frame

for reporting a loss of food

;

and temporarily waived

employment and training requirements. In a

disaster

situation, however, this client-by-client process may not adequately serve the large numbers of people suddenly in need of replacement benefits. 

 

Commodity Distribution

,

with approval from USDA, allows states to release commodity foods — which are ordinarily intended for the National School Lunch Program, The Emergency Food Assistance Program, and other federal programs — and

provide

them to mass feeding sites.

 

The state child nutrition agency can

request

that

USDA

waive

child

nutrition

program

requirements

that would otherwise limit children's

access

to meals

.

T

o learn more

,

see FRAC

's

blog post

:

Leveraging the Child Nutrition Programs to Provide Disaster Relief

.

 

The Special Supplemental Nutrition Program for Women, Infants, and Children

(WIC)

can play a crucial role in low-income communities affected by a

disaster

s

S

tate WIC agenc

ies

can

apply for USDA waivers to allow WIC food package and redemption flexibilities, benefit replacement and simplified income eligibility

.

 
Anti-hunger advocates can play a critical role where states may be slow to act by requesting the state seek relief that is commensurate with need and partnering to conduct outreach to the public about the resources available. Advocates can also push for accessibility and cultural competence in administering outreach.  
Use FRAC's Advocate Guide to Disaster SNAP and access FRAC's Disaster page, which provides more resources on how these crucial federal nutrition programs can work in assisting recovery.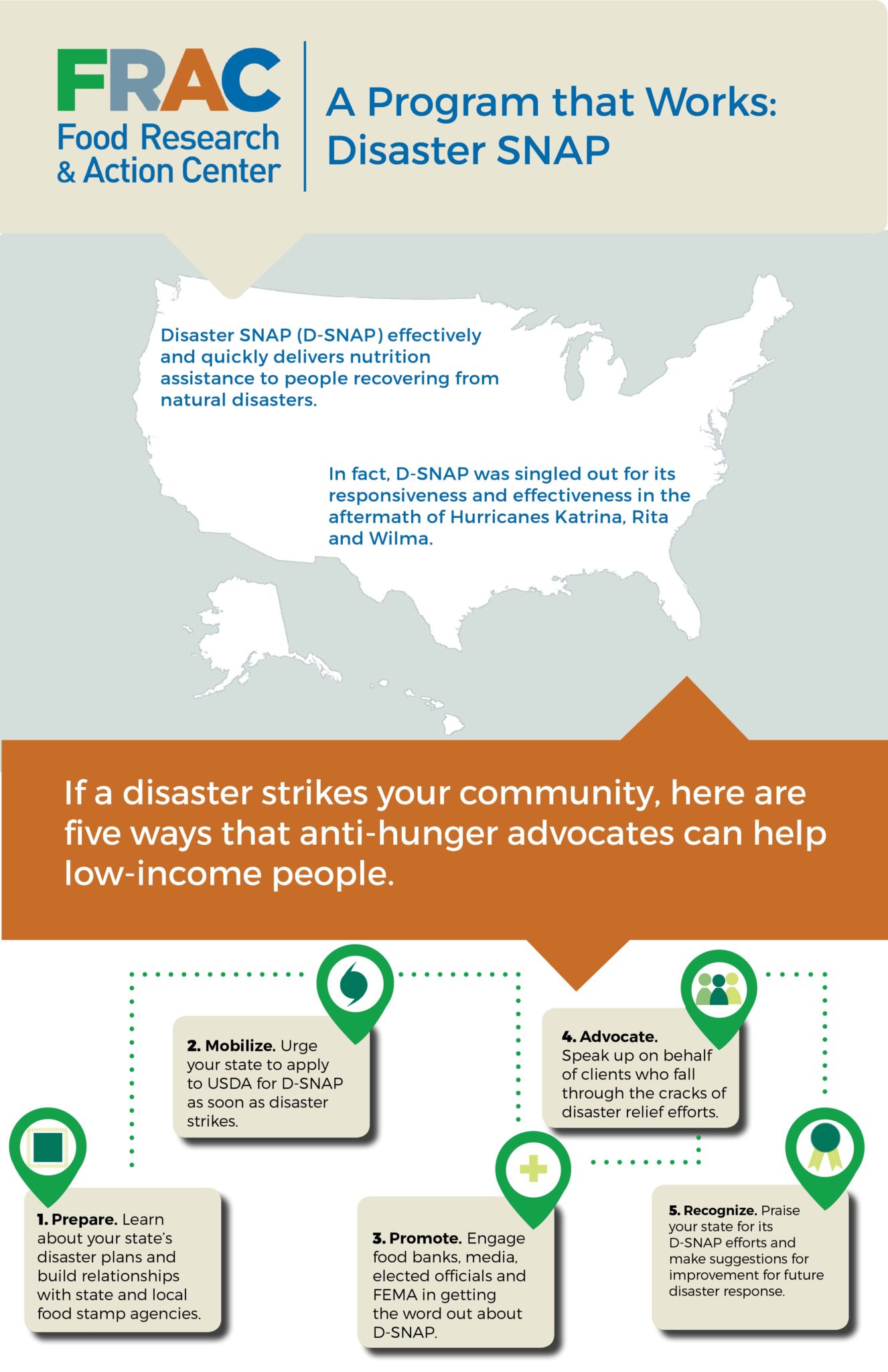 ---
[1] https://www.ncei.noaa.gov/access/billions/#:~:text=Central%20Severe%20Weather%20(June%202023,Vermont%20and%20New%20Hampshire%20communities.