Nancy Parello, Advocates for Children of New Jersey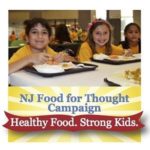 According to FRAC's new report, Hunger Doesn't Take a Vacation, New Jersey ranks 12th in the nation in providing summer meals to low-income children, moving up two spots from 14th in 2015. In this guest post, Nancy Parello, of Advocates for Children of New Jersey, talks about partnerships and other effective strategies that have increased participation in the state's Summer Nutrition Programs.
After achieving significant gains in school breakfast participation over the past six years, in 2015 New Jersey began to also focus on providing summer meals to more children by building on our successful advocacy model that includes strategic statewide partnerships, data-driven advocacy, targeted communications, and local coalition building.
At the heart of this effort is the New Jersey Food for Thought Campaign.
Led by Advocates for Children of New Jersey and the New Jersey Anti-Hunger Coalition, this campaign is driven by a statewide coalition committed to combating childhood hunger. Our partners include the New Jersey Department of Agriculture, which administers school and summer meals programs at the state level, as well as health, wellness and education organizations, anti-hunger groups, municipal government agencies, child advocates, and others. This effective partnership is rooted in the belief that it takes a community-wide approach to end childhood hunger. No one entity — schools, municipal government, or community organizations — can do it alone.
Our partners have been instrumental in helping us to make child nutrition a priority in communities across the state. They help identify local leaders who bring others to the table to work out the logistics of implementing summer meals programs. They also send messages to their constituents, educating them about the importance of summer meals and other programs as well as encouraging them to participate or expand these programs in their communities. This peer messaging approach has been extremely effective. Superintendents, for example, are much more likely to listen to other superintendents.
Another key strategy is using data to highlight and elevate the issue of child hunger. In 2015, Advocates for Children of New Jersey released the first state-specific report (pdf) on summer meals. The report garnered significant media coverage and has been widely used as an advocacy tool in our local outreach efforts.
We also work closely with the New Jersey Department of Agriculture to identify under-served areas as well as convene food summits, roundtables, and other meetings to bring together various community entities, educate them about summer meals, and help them find ways to work together. Our advocacy efforts also include forming local coalitions made up of community members, school and municipal officials, and others who are willing to take on the often challenging — but always rewarding — task of expanding summer meals and other child nutrition programs for those in need in their own backyards.
Last year, these efforts resulted in a 21 percent increase in the number of summer meal sites in New Jersey, rising from 1,112 in 2015 to 1,351 in 2016. Average daily participation also increased.
This year, we are working more closely with local sponsors to help them get the word out by distributing flyers, hosting kickoff events, and working with school districts. Drawing from several national toolkits, we created a New Jersey-specific toolkit that has been distributed to all sponsors. We have also been working with the New Jersey Department of Agriculture to ensure sites are uploaded to the U.S. Department of Agriculture's Summer Meals Site Finder map by the end of June.
The New Jersey Food for Thought Campaign also launched a social media blitz the same week of FRAC's summer report release, which will continue into July. Our website, njsummermeals.org, provides a host of outreach tools, including flyers, sample letters to the editor and social media posts, school outreach strategies, and other marketing tools that sponsors, communities, and advocates are using to ensure that parents know where they can find meals for their children this summer.
We are hopeful these efforts will result in even more gains in 2017, ensuring that more New Jersey children have the summertime nutrition they need to return to school healthy and ready to learn.