This week, FRAC released its annual report, Community Eligibility: The Key to Hunger-Free Schools, School Year 2022–2023, detailing participation in the Community Eligibility Provision among schools and districts in all 50 states and the District of Columbia.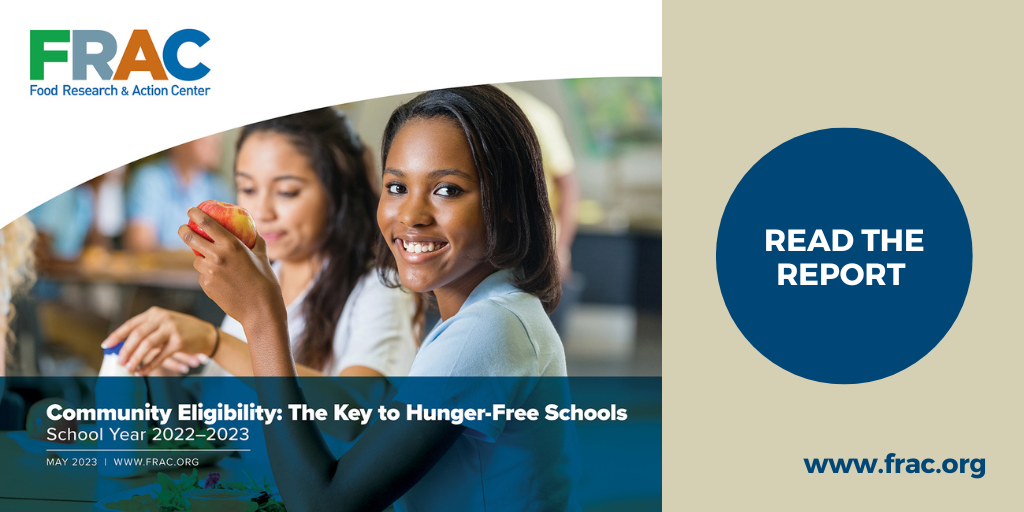 The 2022–2023 school year marked the end of the pandemic-related child nutrition waivers that allowed schools across the country to offer meals to all their students at no charge since spring 2020. By providing healthy free school meals for all, these waivers ensured that all children, no matter their household income, could reap the academic and health benefits of school breakfast. Despite a strong call for these waivers to be extended through the 2022–2023 school year, many schools were forced to return to the tiered system of certifying children for free, reduced-price, or paid meals. 
As schools transitioned back to normal operations for the 2022–2023 school year, community eligibility has facilitated this transition by allowing schools in high-need areas to continue providing free meals to all students without needing to collect applications. As a result, we have seen significant growth in community eligibility participation, which shows the commitment schools across the country have shown to finding ways to continue serving meals to all their students free of charge. 
The following are key findings from this year's report: 
6,419 school districts have one or more schools adopting community eligibility, an increase of 876 school districts, or 15.8 percent, from the 2021–2022 school year.

 

40,235 schools have adopted community eligibility, an increase of 6,935 schools, or 20.8 percent, from the previous school year.

 

82 percent of eligible schools have adopted community eligibility. 

 

19.9 million children attend a school that has adopted community eligibility, an increase of nearly 3.7 million children, or 22.5 percent, from the previous school year.

 
As a companion to this report, FRAC maintains a Community Eligibility (CEP) Database of eligible and adopting schools for the 2022–2023 school year. 
Community eligibility offers a wide range of benefits for students and schools alike. Offering school meals to all students at no charge increases participation, which helps eliminate the stigma associated with participating in school meals, allows more students to experience the educational and health benefits linked to eating school meals, and supports school nutrition finances. It also reduces the administrative burdens and costs of operating the school nutrition programs and eliminates unpaid school meals fees. 
As we look ahead to the 2023–2024 school year, there are several changes that can be made administratively and legislatively to improve community eligibility participation.  
FRAC supports USDA's recently announced proposed rule to lower the eligibility threshold for community eligibility from 40 percent identified student percentage to 25 percent, which would make more high-need schools eligible to participate in community eligibility, expand school districts' ability to group schools together, and support states that have passed Healthy School Meals for All legislation. 

 

FRAC also supports the

School Meals Expansion Act (H.R.2567)

, which would increase the multiplier for federal reimbursement under community eligibility from 1.6 to 2.5, making community eligibility more financially viable for eligible schools and districts. Without additional federal funding, the currently eligible schools that have been unable to adopt community eligibility and most newly eligible schools will be unable to implement community eligibility even with the lower multiplier. Urge your Members of Congress to cosponsor this bill

here

.

 

FRAC also supports the Universal School Meal Program Act of 2023 (

S. 1568/H.R. 3204)

, which would create a permanent nationwide Healthy School Meals for All program, increase reimbursement rates for school meals, end lunch shaming, reimburse schools for meal debt, provide incentives for local food procurement, expand summer meal access, and expand the Child and Adult Care Food Program. Click here to

read a bill summary

and here to

read the bill text

.