October 10–14 is National School Lunch Week, an annual event celebrating the critical role that school lunch plays in providing children with the nutrition they need to learn and thrive both in and out of the classroom, as well as the tireless work of school nutrition departments across the country in connecting children to the nutrition they need to learn and thrive.
This year's celebration comes on the heels of the White House Conference on Hunger, Nutrition, and Health and its landmark National Strategy, which sets an ambitious but achievable goal of ending hunger by 2030. A key part of this strategy is advancing a pathway to Healthy School Meals for All, which acknowledges that school meals are just as important to students' academic success as textbooks or transportation.
This goal builds off the lessons learned during the pandemic, when nationwide waivers allowed schools to serve free meals to all students. The start of the 2022–2023 school year saw a return to pre-pandemic operations in most states, which meant that most students must once again be certified for free or reduced-price meals. As a result, millions of families that relied on school meals being available at no charge have lost that lifeline. While setting Healthy Schools for All as a nationwide goal is an important first step, bringing school meals to millions of additional children should not take several years.
Join the Food Research & Action Center (FRAC) this week in celebrating, not only the essential role school meals play for millions of children across the country, but in urging Congress to make healthy school meals for all children at no charge a reality.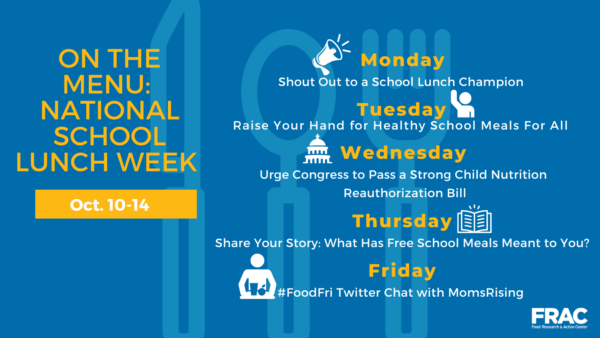 What Does Free School Meals Mean for You?
FRAC is working hard to achieve Healthy School Meals for All throughout the country and asking people to share what free school meals have meant to them. Here are some of those responses.
"Universal free school lunches were a huge help for my family. We are on the cusp of qualifying for free school lunches, but do not qualify. However, the daily cost of school lunch adds up quickly with two kids and it's a significant expense. Universal free lunch helped my family easily afford food at school for both of my kids." — parent, Washington
"During the pandemic participation tripled at breakfast and doubled for lunch. We are now back to paid status and now we have gone back to the previous numbers before the pandemic. What this has shown me is that it's not that students don't want to eat school lunches: their families can't afford to pay for school meals. I am also hearing from families on the borderline of qualifying that they don't know how they will pay for meals with the other items like rent, gas and groceries rising in price. It is my opinion of all the government benefits that we have food for children should be at the top of the list." — school food service director, Ohio
"Free meals for all was a game changer for our families. Not only did families not need to worry about school lunch debt, but school meals were also normalized across the district. It became not only the "poor kids" eating breakfast in the morning. Our schools embraced the increase in breakfasts served and introduced breakfast into the classrooms. At one of our PreK-8th grade schools we saw a 200 percent  increase in breakfast participation. Now, without the no cost breakfast this school is back to its pre-pandemic numbers." —school food service director, Minnesota
"Our county is no longer offering free meals to all students. Instead, families and/or students are required to go online and sign up for free meals. While the process online seems simple for some, it represents another obstacle for many families and students. Often parents do not understand the process and/or are unable to read and write in any language. Barriers are created in this way. Families and/or students can ask for help in signing up or can call a number to get help, however, they are generally trying to balance so many things that are required to enroll their children into school or to prepare for a new year and grade. Families arriving and enrolling during Covid did not need to sign up and so they had no idea that this year would be different." — advocate, Maryland
"Free meals to all was very helpful during the pandemic. As a single mother with income too high to qualify for any type or public assistance it is a struggle to make ends meet. The high cost of childcare and health insurance at full cost are killing me! I have to commute for work which leaves us little time in the evenings to have dinner, prepare for the next day, and spend quality time together. Knowing that my child would get healthy meals at school was a relief as I did not have to worry about the additional cost of buying & preparing his lunches every day." — parent, Florida