The COVID-19 pandemic has highlighted the critical role of school lunch in alleviating childhood food insecurity while also demonstrating the value of offering school meals at no charge to all students. In order to overcome the educational, health, and economic impacts of the pandemic on children and families, and the financial challenges created by the pandemic for school nutrition departments, Healthy School Meals for All should remain the new normal for all schools across the country. The Build Back Better Act offers an important opportunity to increase the number of schools able to offer school meals to all students and better link children to free and reduced-price school meals, allowing 9 million more children to access free school meals.
Celebration activities during NSLW can provide an opportunity to advocate for the child nutrition provisions in the Build Back Better Act, including those that support Healthy School Meals for All; raise awareness about the healthy lunches served at school; increase student participation, offer a platform to share successful implementation strategies; and attract media coverage. Below are activities and resources to make NSLW a success in your community.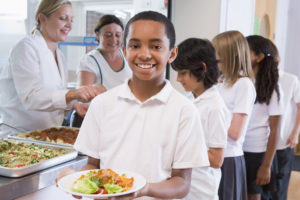 Menu of Activities During National School Lunch Week  
Join FRAC every day during the week of October 11-15 for activities to increase awareness of school lunch and the champions that make it work.
Monday, October 11: Shout-out a School Lunch Champion


Is there a school nutrition director in your community making a difference? Celebrate these champions by tagging them on Twitter and sharing how they go above and beyond to increase the reach of school lunch. Don't forget to tag @FRACTweets as well so that your message can be amplified!

Tuesday, October 12: Raise Your Hand for Healthy School Meals for All


Show your support for Healthy School Meals for All today! Take a picture of you raising your hand for #SchoolMealsForAll and tag your Members of Congress. Be sure to tag @fractweets so that your message can be retweeted.



Wednesday, October 13: Support Child Nutrition Provisions on the Build Back Better Act


Join FRAC in telling

Congress to protect provisions in the Build Back Better Act that take important steps to increase access to and improve the nutrition of school meals, making a significant step in the direction of #SchoolMeals4All 

https://p2a.co/dkqsZf5



Thursday, October 14: Learn about School Lunch Best Practices
Tune-in to FRAC's webinar at 3 p.m. Eastern Time to hear about best practices for reaching students with school lunch from the School Nutrition Association and two school districts. Register here.
Friday, October 15: Join a School Lunch Twitter Chat
Join FRAC and MomsRising for a Twitter chat at 1 p.m. Eastern Time on the importance of school lunch and opportunities for increasing participation.