Today is National Voter Registration Day, and FRAC is joining thousands of groups across the nation which are celebrating democracy by promoting voter registration and voting.
On National Voter Registration Day, volunteers and organizations across the country participate in a single day of coordinated on-the-ground, technological, and media efforts to raise awareness of voter registration opportunities and reach the many voters who otherwise may not register.
Engaging in nonpartisan voter registration activities is a great and often overlooked way for anti-hunger organizations to support low-income families. Low-income citizens are not registered to vote at the same rates as higher-income citizens. This means that many of the clients served by anti-hunger organizations are likely missing out on the opportunity to fully participate in the democratic process and voice their support for federal nutrition programs.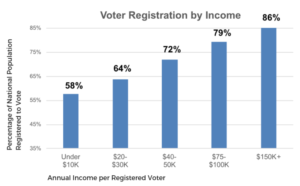 As key community resources, anti-hunger nonprofits are in a prime position to help the citizens they serve exercise their right to vote and National Voter Registration Day is a perfect time to do so.
Here are a few ideas on how your organization can start or expand nonpartisan voter registration activities—not just on National Voter Registration Day, but also in the days to come:
add voter registration to the client services, such as food distribution or nutrition education classes, that you already provide;
conduct a voter registration drive;
host a nonpartisan voter registration group at your site; and
promote voter registration opportunities through social media, your website, e-communications, and signage at your site.
Voter registration isn't the only way anti-hunger organizations can help strengthen our democracy and further help low-income citizens.
You can learn more about other nonpartisan election-related activities in this guide from FRAC and Nonprofit VOTE, which highlights activities that 501(c)(3) organizations can carry out to help low-income citizens exercise their right to vote and elevate the issue of hunger during elections, including voter and candidate education.
Hunger is a political condition, requiring the power of the vote to help eradicate it. We hope you'll consider joining us in this important work to help more citizens participate in the democratic process, strengthen our country, and elevate the issue of hunger during elections.
Before you begin any election-related activity, be sure you are aware of and are following state and federal laws. Consulting with legal counsel and relevant resources, such as those from the Alliance for Justice's Bolder Advocacy initiative, is an important step.