February 21, 2020
According to the most recent national food insecurity data released by the U.S. Department of Agriculture, rates of food insecurity were high for households headed by African Americans — 21.2 percent — two and a half times the rate for white, non-Hispanic households. Several factors have been found to contribute to this disparity, including racial discrimination, poverty, unemployment, incarceration, and disability.
In recognition of Black History Month, FRAC honors the legacy of Black leadership on issues of hunger and poverty.
Here are five profiles of Black civil rights, anti-hunger, and anti-poverty advocates.
The Black Panther Party
In 1969, the Black Panther Party began providing free breakfast to children before school. The breakfast program, called Free Breakfast for School Children, was just one of several social programs created by the party. The program fed thousands of children from 1969 into the 1970s, and at one point served 20,000 children a week. FBI director J. Edgar Hoover called the program a threat, and FBI and police raids began destroying food meant for the children and terrorizing participants. As a result, the Black Panther Party's program ended, but it had put pressure on the U.S. government to provide free breakfast for children The School Breakfast Program was authorized in 1975.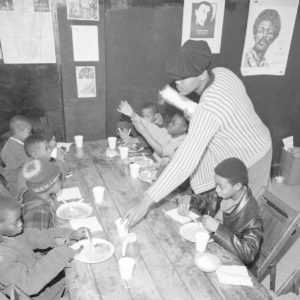 Rep. Shirley Chisholm
"You don't make progress by standing on the sidelines, whimpering and complaining. You make progress by implementing ideas."
Many Americans know the Honorable Shirley Chisholm as the first African American woman to be elected to Congress in 1968. Rep. Chisholm (D-NY) paved the way for Black women in U.S. politics and played an essential role in the creation of the Special Supplemental Nutrition Program for Women, Infants, and Children (WIC), ensuring that low-income mothers everywhere could access free, healthy food for their young children. She also was a founding member of the Congressional Black Caucus.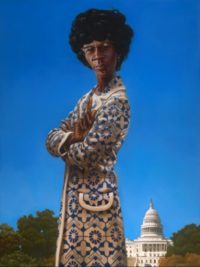 Rep. Barbara Lee
Rep. Barbara Lee received public assistance while she raised her two sons as a single mother and attended Mills College. While she was in college, she invited Rep. Shirley Chisholm to speak on campus. Rep. Lee went on to work on Rep. Chisholm's presidential campaign in 1972 and served as her delegate at the 1972 Democratic National Convention. She was elected to Congress in 1998 and serves as chair of the Majority Leader's Task Force on Poverty, Income Inequality, and Opportunity. She is a strong advocate for the Supplemental Nutrition Assistance Program (SNAP) and other safety net programs, often citing her own experience in her advocacy to protect the programs.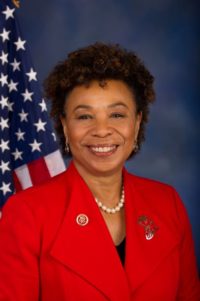 Rep. John Lewis
John Lewis (D-GA), the esteemed civil rights leader and long-serving Member of Congress, has a long history of activism against injustice. Rep. Lewis organized sit-in demonstrations at segregated lunch counters in Nashville, Tennessee, when he was a student at Fisk University. He volunteered for the Freedom Rides in 1961, which were organized to protest segregation at bus terminals, was beaten severely by angry mobs, and arrested by police. When he was 23, he was already a nationally recognized civil rights leader, and spoke at the March on Washington in 1963. Since he was elected to Congress in 1986, Rep. Lewis has been a strong advocate of protecting SNAP, WIC, the Low-Income Home Energy Assistance Program, and other social safety net programs that help "hardworking Americans who are struggling through no fault of their own."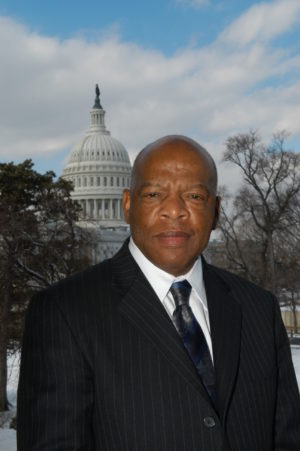 Dr. Martin Luther King, Jr.
Dr. Martin Luther King Jr., the foremost civil rights leader of the 20th century, recognized the struggle against hunger and poverty as fundamental to the fight for equality and justice for African Americans. "I have the audacity to believe that people everywhere can have three meals a day for their bodies, education and culture for their minds, and dignity, equality, and freedom for their spirits," he said in his Nobel Peace Prize acceptance speech in 1964. Dr. King led nonviolent protests throughout the 1950s and 1960s to work toward civil rights in America and peace abroad.