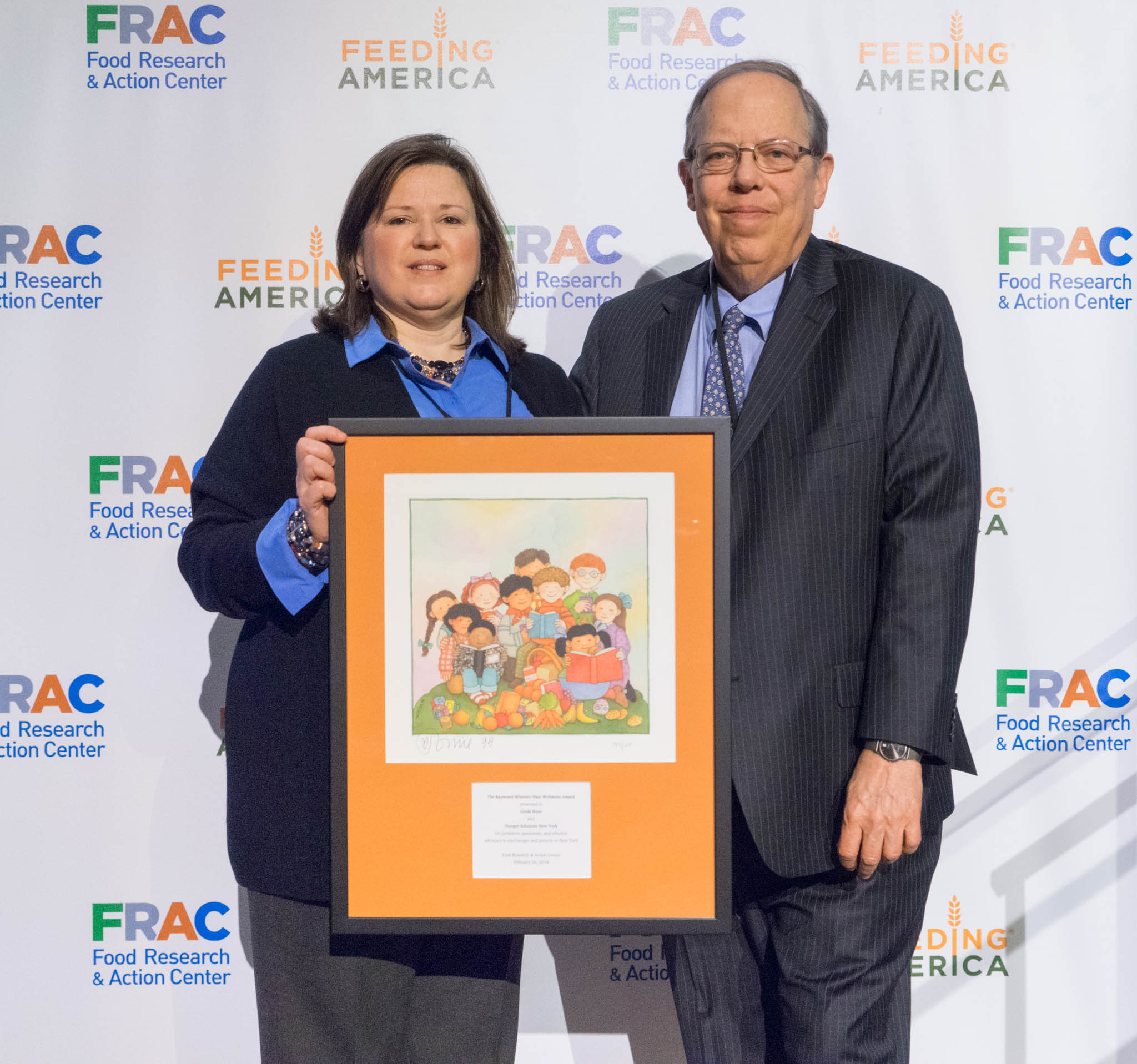 This guest blog is authored by Linda Bopp, Executive Director of Hunger Solutions New York and recipient of the 2018 Food Research & Action Center (FRAC) Dr. Raymond Wheeler/Senator Paul Wellstone Anti-Hunger Advocacy Leadership Award. Linda has guided Hunger Solutions New York through several initiatives, including changing the organization's name to more strongly reflect its mission, strengthening partnerships with state and national organizations, and significantly expanding the organization to more effectively alleviate hunger across New York State. She lives outside Albany, New York with her husband and two sons.
Food. Clothing. Shelter. In 3rd grade, I learned that these were the three basic human needs — food being the most basic. I remember thinking about this often as I grew up and wondering why, if these three things were needed for human survival, so many people were hungry or homeless.
I attended a Franciscan College and take very seriously the values I learned there: affirmation of the unique worth of each person, service to the poor and marginalized, and a commitment to building a world that is more just, peaceable, and humane.
After college, I worked for Governor Mario Cuomo. The position provided the opportunity of a lifetime for a budding public relations professional. Ultimately, that opportunity changed my life. I learned the power and value of public service.
These three experiences from my formative years, coupled with marrying a man who believes passionately in public service and the intense work ethic instilled by my parents, were the steps along my path to an anti-hunger career. What I most remember when I was offered the executive director position at Hunger Solutions New York in 2006 (then the Nutrition Consortium of New York State) was that it just felt right; as if all my experiences had been leading to devoting my career to an anti-hunger mission.
I am so proud of all the achievements that have resulted from the strategic decision to invest in building the organization's advocacy capacity. The team we have assembled at Hunger Solutions New York is talented, committed and effective. Their work has contributed to many advocacy achievements in New York State.
For example, Hunger Solutions New York's advocacy contributed to eliminating finger imaging for the Supplemental Nutrition Assistance Program (SNAP), mitigating the impact of time limits on able-bodied adults without dependents, and raising the gross income test for SNAP to 150 percent of poverty for working families.
I am also proud to say that, in 2018, we are on the verge of significant improvement in child nutrition policy with breakfast after the bell and improvements to unpaid school meal policy that protects the dignity of children and ensures access to school meals. These proposals are currently moving through the legislative process.
Soon, we also will add advocacy for the Child and Adult Care Food Program and the Special Supplemental Nutrition Program for Women, Infants, and Children to our work.
I am passionate about anti-hunger advocacy because I believe hunger is the result of society failing a person and it is government's responsibility to ensure that society meets its fundamental responsibilities to every person. For all the abundance and wealth of our society, it is shameful and inhumane that hunger is allowed to exist. What is needed is the political will to end hunger. Anti-hunger advocacy must create the political will that results in every person getting the nutrition they need in a dignified manner so that they are able to contribute to society to the best of their ability. That will be a beautiful day.
Thank you to FRAC for inviting me to share my story. For we know that every person, including every person who is not able to secure the most basic of human needs, has a story, and their story deserves respect. It is in their story that we must learn what led to them being hungry. We must commit as a society to fix the conditions in their story that led to hunger.
And while many people need to work on fixing those conditions, I hope to contribute by doing everything I can to ensure that every hungry person has the food they need; the most basic of human needs.