October 25, 2019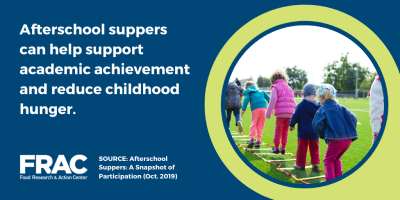 National participation in the Afterschool Nutrition Programs — which are key to closing the hunger gap that exists afterschool for many children across the country — continues to grow, according to a new FRAC report.
FRAC's Afterschool Suppers: A Snapshot of Participation finds that in October 2018, 1.3 million children received an afterschool supper, a 10.4 percent increase from October 2017, and 1.5 million children received a snack on an average weekday. Almost 48,000 afterschool programs across the country provided a supper, a snack, or both through the Afterschool Nutrition Programs in October 2018, which is an important indicator of access to afterschool nutrition for low-income children.
Participation in afterschool suppers has consistently grown since the program became available nationwide in 2010 through the Healthy, Hunger-Free Kids Act. Since FRAC first began collecting afterschool supper participation data in 2016, nearly 300,000 additional children have been served. While this success should be celebrated, afterschool suppers are still falling short of the need: only one child received an afterschool supper for every 16 children who received a free or reduced-price school lunch in October 2018.
There are a number of ways to reach more children with afterschool suppers, including, but not limited to, the following:
Implement Best Practices for Program Expansion: There are still too many existing and eligible afterschool programs that are not serving afterschool suppers. Best practices that can be implemented in communities across the country include moving from serving snacks to suppers; recruiting more school districts to provide suppers; streamlining and simplifying the program; serving meals during weekends, holidays, and school closures; and improving meal quality. Learn more about proven best practices here.
Increase Funding for Afterschool Programming: Afterschool programs provide the necessary platform for afterschool suppers, and there simply are not enough afterschool enrichment programs that are available or affordable for low-income families. Significant investments at federal, state, and local levels to create and support afterschool programs would increase the reach of afterschool suppers. Learn more about the importance of afterschool programming and opportunities to advocate for additional funding at the Afterschool Alliance.
Improving Program Requirements Through Child Nutrition Reauthorization: Child Nutrition Reauthorization, currently being considered by Congress, provides an important opportunity to streamline afterschool suppers so that programs can serve suppers year-round and improve the eligibility requirements so that more afterschool programs can provide nutritious meals to a larger number of children. Learn more about proposals that would improve the program here.
More children and afterschool programs could benefit from afterschool suppers, and now is the time to build on the momentum to date. Use FRAC's resources and research to support your efforts to increase afterschool meals participation in your state and local community.
---
Learn more about closing the afterschool hunger gap in Afterschool Suppers: A Snapshot of Participation.
Click to Tweet: National participation in #AfterschoolMeals — which are key to closing the hunger gap that exists afterschool for many children — continues to grow, per @fractweets' new report. Learn more on #FRACChat: bit.ly/2BTtV6d