January 29, 2021
Recently released data from the U.S. Department of Agriculture (USDA) shows that the Pandemic Electronic Benefit Transfer (P-EBT) program provided a total of $10.7 billion in nutritional assistance to eligible families with school-age children between April and September 2020. When schools shuttered last spring in response to the pandemic, 30 million children lost access to free and reduced-price school meals. In response, Congress created P-EBT through the Families First Coronavirus Response Act.  
P-EBT provides an EBT card with the value of school breakfast and lunch for the days that families lose access to free and reduced-price school meals. P-EBT has offered struggling families a lifeline that fills the nutrition needs no longer being met by school meals. 
The rollout of this new program took time as each state had to develop a workable implementation plan. USDA's Food and Nutrition Service (FNS) approved the first state P-EBT plan on April 9 for Michigan, followed by Rhode Island on April 10. Another 15 states soon followed — Alabama, Arizona, California, Connecticut, Delaware, Illinois, Kansas, Maryland, Massachusetts, New Mexico, North Carolina, Oregon, Virginia, West Virginia, and Wisconsin. FNS approved P-EBT plans for 22 states in May: 10 states in June, two states in July, and the final state—Idaho—in August.[1]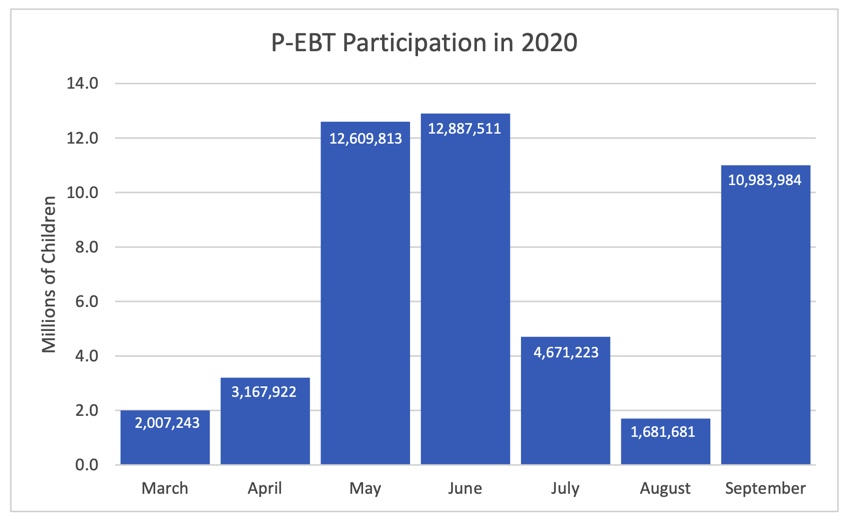 As you can see in the graph, this critical benefit was able to get to families soon after their state plan was approved, with most states issuing benefits in May and June 2020. Participation in the program peaked in June — reaching 12.9 million children who lost access to free or reduced-price school meals due to the pandemic. The jump in September can be attributed to states issuing benefits to children they missed in their initial disbursement of P-EBT, and in some states, issuing benefits to students for August and September. 
"The Pandemic EBT has been a blessing for our family! The COVID-19 pandemic has changed everyone's lives! We chose remote learning for our children; it's a challenge we are learning to embrace. We had to adjust and make changes with bills, groceries, and household supplies. P-EBT has helped lighten our grocery bill to pay other bills. I applied for SNAP but my family was denied to receive benefits. So for our family, we greatly appreciate the Pandemic EBT benefit for children who receive free/reduced lunch! Thank you!" –Parent, North Carolina   
Congress also provided additional flexibilities and clarity in the most recent COVID-19 relief package that will make it easier for states to provide benefits during the 2020–2021 school year as schools have implemented a variety of in-person and remote school schedules. Additionally, President Biden's executive order directs USDA to increase the benefit amounts by 15 percent to $6.82 per day. 
As of today, seven states and Puerto Rico have been approved to issue P-EBT benefits to school-age children for the 2020–2021 school year.  FRAC looks forward to building on the success from the spring, and working with partners to ensure even more eligible children and their families can access this benefit as school districts across the country continue to operate virtual or hybrid learning models — and as families continue to struggle.   
"We are EXTREMELY thankful our family was able to get this support (P-EBT) to assure our children received proper nutrition. We do not have transportation and are unable to pick up food from sites at the time the district provides [this service]. PEBT has made it convenient for families to be able to get [the] food needed when they can. With grocery prices rising, and kids being home all day, the grocery bill doubled and was hard to keep up with, in addition to so many other household bills with less income coming in because of [the] econom[ic] downturn. We thank you so much for this much–needed assistance, and hope that this can continue to be available through this pandemic struggle, as so many families are doing all they can to survive and provide."  — Parent, Nevada   
[1] Koné Consulting and Rachel Cahill Consulting. (2020). Pandemic EBT Implementation Documentation Project. Available at: https://frac.org/research/resource-library/p-ebt-implementation-documentation-project-full-report. Accessed on January 29, 2021.tps://frac.org/wpcontent/uploads/P-EBT-Documentation-Report.pdf