Media Contacts:

Emily Pickren
Food Research & Action Center
epickren@frac.org
202-640-1118
AARP Foundation
media@aarp.org
202-434-2560
WASHINGTON, March 22, 2019 — Millions of older adults who struggle against hunger are missing out on a critical program to help put food on the table, according to interactive data tools produced by the Food Research & Action Center (FRAC), with support from AARP Foundation. The Supplemental Nutrition Assistance Program (SNAP) helps low-income seniors afford the food they need for their health and well-being, yet FRAC's data tools show that nationally, close to three in five eligible older adults, on average each month, are missing out on the benefits of SNAP. FRAC's interactive map and tables highlight SNAP participation rates among eligible seniors (60+) and for comparison, participation rates among all eligible individuals, for each state. SNAP participation rates among eligible seniors vary across the nation, but all states have substantial room to reach more seniors with the program.
"These maps illustrate that far too many seniors are missing out on SNAP in every state," said Emily Allen, SVP, AARP Foundation Programs. "What makes matters worse is that we know, thanks to an ever-growing body of research, that SNAP improves the health, nutrition, and budgets of vulnerable seniors."
Millions of eligible seniors who do not participate in SNAP may be at increased risk of hunger and hunger-related health problems, such as diabetes, hypertension, and depression. Many seniors may not be aware that they are eligible, or may feel stigma about receiving food assistance.
At 70 percent, New York leads the nation in SNAP participation among eligible seniors, while California and Wyoming ranked as the two worst performing states, with participation rates among eligible seniors at 19 percent and 20 percent, respectively. It should be noted that the value of CalFresh (California's name for SNAP) benefits typically are included within recipients' Supplemental Security Income/State Supplementary Payment, making those recipients — many of whom are seniors — ineligible for CalFresh. California is changing this policy this year, which will allow low-income seniors to receive SNAP benefits and will likely improve the state's participation rate among eligible seniors.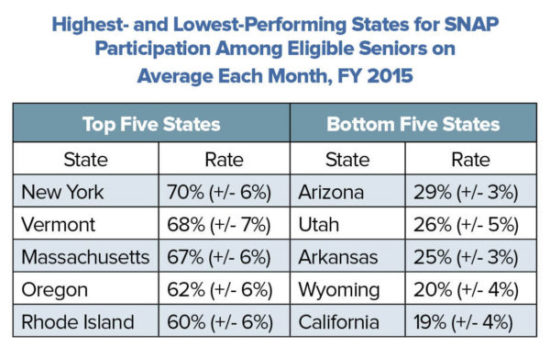 "Food-insecure seniors often must choose between paying for food or medication," said Jim Weill, president, Food Research & Action Center. "SNAP is the only nutrition program available to all eligible older adults in every part of the country, and helps ensure that seniors do not have to cut back on or skip meals altogether to pay for health care or other basic needs."
To close the senior SNAP participation gap, states, localities, health care providers, social service agencies, and nonprofit organizations can adopt and promote available best practices to reach many more seniors with information about the availability and benefits of SNAP. Health providers can screen patients for food insecurity and refer seniors to SNAP as a treatment resource, as laid out in FRAC/AARP Foundation's free online course, Screen & Intervene: Addressing Food Insecurity Among Older Adults.
"Having reliable access to enough food is important for everyone, but it is particularly important as people age and become more vulnerable to illness, or when their life circumstances — such as limited mobility or a fixed income — make maintaining a healthy diet more difficult," added Weill. "SNAP is critical to filling the senior nutrition gap."
# # #
About the Food Research & Action Center
The Food Research & Action Center is the leading national nonprofit organization working to eradicate poverty-related hunger and undernutrition in the United States.
About AARP Foundation
AARP Foundation works to end senior poverty by helping vulnerable older adults build economic opportunity and social connectedness. As AARP's charitable affiliate, we serve AARP members and nonmembers alike. Bolstered by vigorous legal advocacy, we spark bold, innovative solutions that foster resilience, strengthen communities and restore hope. To learn more about AARP Foundation, visit aarpfoundation.org.