Media Contact:                                                                  
Emily Pickren
202-640-1118
epickren@frac.org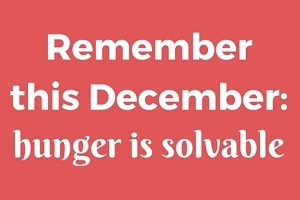 WASHINGTON, December 3, 2017 — 'Tis the season to highlight the public nutrition programs that are critical to keeping low-income children and families from going hungry. These programs also improve health and well-being for children and adults, boost educational outcomes for children, increase productivity, and grow the economy.
"Remember this December that hunger is solvable," said Jim Weill, president of the Food Research & Action Center. "By protecting and strengthening nutrition programs, Congress, USDA, and states can help make every day a little merrier and brighter for children and families in need, not just during the holidays, but all year-round."
Six essential programs provide a consistent source of nutrition to help ensure that children and their families are happy, healthy, and hunger-free.
 Supplemental Nutrition Assistance Program (SNAP)
More than 41 million Americans live in households that participate in SNAP each month. In addition to helping those struggling against hunger put food on the table, SNAP lifts and keeps millions of people out of poverty each year, boosts the economy, and improves nutrition and health, especially among children. Research estimates that half of all children will receive SNAP at some point during childhood. Between 2011-2015, more than 43 percent of households that used SNAP included children.
School Meals
Tight family budgets and busy morning schedules mean that many students arrive at school hungry and unprepared for the day ahead. School breakfast provides the nutrition that young people need to stay healthy and ready to learn. The National School Lunch Program makes it possible for all school children in the U.S. to receive a nutritious lunch every school day. The vast majority of schools — approximately 95 percent — participate in the program. Children who receive school meals show increased concentration and participation, have better test scores, and fewer absences and discipline problems. On an average day in the 2015–2016 school year, 12.1 million low-income students participated in school breakfast, and 21.6 million low-income students participated in school lunch.
Afterschool Meals
Afterschool meals contribute to the healthy growth and development of low-income children and teens by providing them with nutritious snacks and meals after the school day ends. Meals are served as part of afterschool programs at schools, community and recreation centers, Boys & Girls Clubs, YMCAs, and other sites that provide educational and enrichment activities for children in a safe environment. In addition to serving nutritious snacks and meals after school, programs can also serve meals on weekends and school holidays to young people age 18 and under.
Summer Meals
Over the summer break, most students experience some learning loss, but the severity is largely determined by a family's household income and its access to summer enrichment programs. Many of the children that experience more severe summer learning loss also face a nutrition gap in the summer. Summer meals play a critical role in closing these gaps, by supporting summer programs that keep low-income children healthy, learning, and engaged during summer vacation. Three million children received summer meals on an average weekday in July 2016.
Child and Adult Care Food Program (CACFP)
As a result of new nutrition standards implemented this year, all child care and adult care centers, family child care homes, Head Start, and afterschool programs that participate in CACFP now serve a greater variety of vegetables and fruit, more whole grains, and foods with less sugar and saturated fat. The updated standards strengthen the role of CACFP in preventing obesity in young children, reducing food insecurity, and promoting improved health among children. In 2016, CACFP provided meals to 4.3 million children.
Special Supplemental Nutrition Program for Women, Infants, and Children (WIC)
WIC provides low-income pregnant women, new mothers, infants, and young children with nutritious foods, nutrition education, and improved access to health care. Participation in WIC is associated with not only better diets for both mothers and children, which reduces childhood hunger and obesity, but healthier births, lower infant mortality, and increased immunization rates. Good nutrition is important at all stages of life, but particularly so in the earliest years, when it serves as a critical building block for a healthy future.In 2017, more than 7 million women, infants, and young children have benefited from WIC each month.
# # #
The Food Research & Action Center (FRAC) is the leading national nonprofit organization working to improve public policies and public-private partnerships to eradicate hunger and undernutrition in the United States.