Media Contact:
Emily Pickren
epickren@frac.org
202-640-1118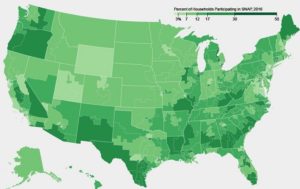 WASHINGTON, September 14, 2017 — On the heels of today's release of the 2016 Census American Community Survey findings, the Food Research & Action Center (FRAC) launched new interactive data tools that illustrate poverty rates by state and congressional district, and household SNAP participation rates by state and congressional district.
Policymakers, advocates and others will be better able to pinpoint the extent of poverty in their communities and to understand the important extent to which the Supplemental Nutrition Assistance Program (SNAP, formerly known as food stamps) is bolstering households struggling with inadequate incomes. The new maps complement another FRAC map showing SNAP participation in every U.S. county.
"Our new data tools highlight for policymakers that the struggle against hunger and poverty for many in their communities is real," said Jim Weill, president, FRAC.
While there have been modest decreases in poverty rates and food insecurity, there are millions of people across the country who have been left behind in the post-recession recovery.
The Supplemental Nutrition Assistance Program (SNAP), among other federal nutrition programs like school meals, WIC, and child care meals, continues to be instrumental in lifting and keeping people out of poverty, which is the root cause of hunger. According to the Census' Supplemental Poverty Measurement, SNAP lifted 3.6 million Americans out of poverty in 2016.
"Time and time again, federal nutrition programs have given our nation a solid return on investment in terms of health, productivity, and an improved economy. Right now, we're seeing their vital importance in the response to natural disasters, such as Hurricanes Harvey and Irma," added Weill. "Now is not the time to pull the rug from underneath these programs as has been proposed in budgets by the administration and Republicans in Congress. These are strong programs that must be made even stronger if we want to continue to see poverty and food insecurity rates decline."
###
The Food Research & Action Center is the leading national nonprofit organization working to eradicate poverty-related hunger and undernutrition in the United States.