Media Contact:
Emily Pickren
epickren@frac.org
202-640-1118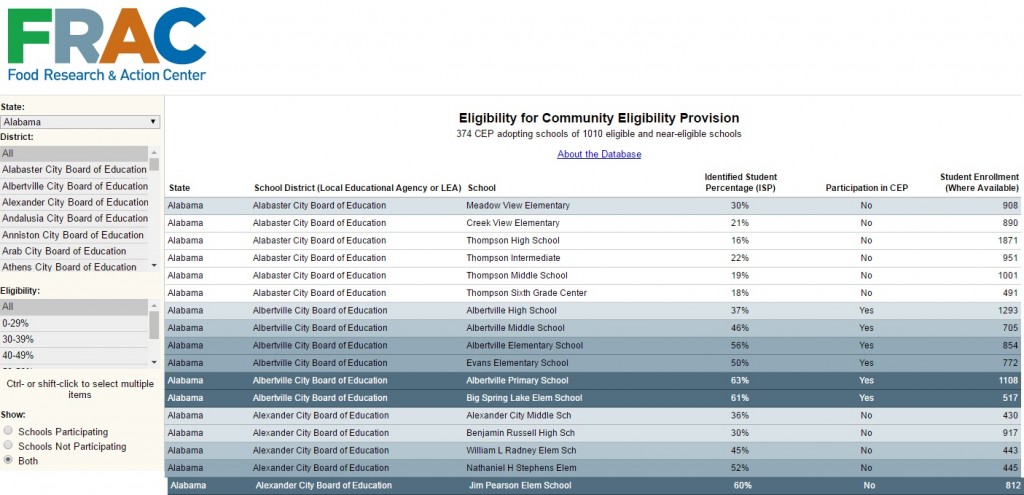 The Community Eligibility Provision (CEP) is a federal option that enables high-poverty schools to offer school breakfast and lunch at no charge to all students. School meal applications are eliminated, thus alleviating administrative burdens and driving cost savings for resource-strapped schools that serve some of the nation's most vulnerable children.
Search FRAC's CEP database* to determine which schools in your community or state are eligible or near-eligible for CEP.
Questions & Answers about FRAC's CEP Database
Q: What type of information can I pull from the database?
A: Each entry in the database contains the following information (when available) for a given school: state, school district, school name, identified student percentage (ISP), student enrollment, and current participation status.
Q: How do I search for my school or district?
A: Use the filters to find CEP-eligible and near-eligible schools by state, school district, ISP category, or CEP participation status.
Q: How do I choose more than one state or school district?
A: Hold down Ctrl+Shift simultaneously while making your selection.
Q: How was the information in the database gathered?
A: For school year 2016–2017, states were required to publish a list of -schools and school districts that were eligible or almost eligible for CEP. The Food Research & Action Center worked in partnership with the U.S. Department of Agriculture to compile the list of eligible and near-eligible schools and made it available via this searchable database. For more information about how the data were compiled, see the technical notes at the bottom of the database page.
Q: Is there an Excel file of the data available?
A: Yes, an Excel version of the data found in this database can also be downloaded.
*Last Update 8/2/2016: Please be aware that state agencies may republish their lists with updated data throughout the summer. FRAC will do its best to monitor newly published lists and update the database accordingly.