June 8, 2022
In February, Abbott Laboratories, implemented a voluntary recall of its infant formulas, Similac, Alimentum, and EleCare, produced out of its Sturgis, Michigan, facility. This voluntary recall has since sent shockwaves throughout the nation and intensified an already existing shortage of infant formula. The United States is currently in peril trying to rebound from this public health emergency. Many grocery stores and other retailers are feeling the woes associated with supply chain shortages, increased pricing, and elevated demands for goods and services.
A 2022 Datasembly report, Latest Numbers on Baby Formula, outlines that the nationwide infant formula out of stock rate has reached 43% as of May.
What does this mean for Women, Infants, Children (WIC) participants in D.C.?
According to DC Health's WIC State agency office, while many states are noticing less infant formula on retail shelves, D.C. stock is limited but stable. DC WIC staff reported limited but available supplies of Similac Advance, Enfamil Neuro Pro, and Gerber Good Start. However, there were noticeable shortages of sensitive formulas such as Similac Sensitive, Enfamil Neuro Pro Sensitive, Gerber Good Start Gentle and soy-based formulas (Similac Isomil, Enfamil Prosobee, Gerber Good Start Soy). WIC staff are actively monitoring stock levels at various retail locations across the district on a weekly basis.
As the federal government works to provide more access to infant formula for WIC grantees, DC Health is working with grocery stores and local retailers are equipped with updated information to ensure residents do not experience difficulty when using eWIC to make purchases. It should also be noted DC WIC is actively partnering with community organizations to distribute donated or unused infant formula.
A Guide to Formula Substitutions and eWIC
To help parents and caregivers find and purchase the appropriate formula to meet their infant's nutrition needs, DC WIC continues to work with local WIC grantees at Children's Hospital, Unity Health Care, Mary's Center, and Howard University Hospital, as well as with local retail food stores and community partners.
Additionally, DC WIC staff has provided guidance for pediatricians and OB/GYNs with information to share on how parents and caregivers can purchase infant formula substitutions if their approved variety is not available.
For parents and caregivers searching for formula substitutions, DC WIC staff have created a chart designed to help baby formula customers choose the appropriate substitution if their normal brand or variety is out of stock.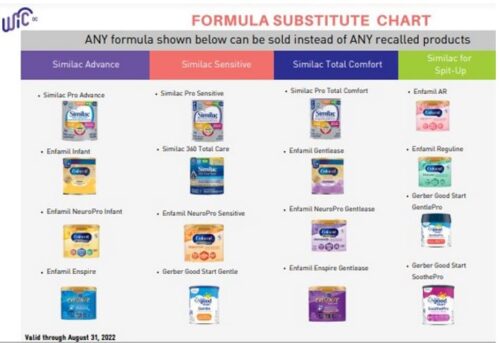 As D.C. has fully implemented eWIC across the district, it should be noted that if parents and caregivers find the brand or variety of infant formula approved on their WIC EBT card out of stock, they should call their local WIC clinic during business hours to switch to alternative brands or container sizes. If you need assistance after hours and on weekends, call 202-442-9397 or go to the DC WIC website and click on "Trouble Finding Formula?" to submit an online form.
Advice for Those in Search of Formula
With no immediate or known end to the supply chain shortage, and while domestic production of infant formula attempts to rebound, what advice is there for parents and caregivers in search of formula?
WIC recommends that infants who are not breastfed should be fed infant formula from an FDA-approved manufacturer.
Parents and caregivers should be aware that, due to limited availability, they may have to change brands or formulation (for example, using powder instead of concentrate).
Do not feed your baby cow's milk if they are less than 12 months of age. Babies can switch to cow's milk when they turn 12 months old.
Do not to make homemade infant formula.
Buy only what you need. In order to avoid "stockpiling" and to ensure other parents and caregivers have access to formula for their babies and infants, purchase only the quantity and variety needed at the immediate time.
D.C. Hunger Solutions is committed to working with DC Health State agency staff, community partners, parents, caregivers and retailers across the district to help share information and provide resources to assist with navigating the infant formula shortage.
For more information about DC WIC and the formula recall, visit DC Health Formula Shortage Guidance page.