"Have there been times in the past 12 months when you did not have enough money to buy food that you or your family needed?"  
FRAC's recent report on food hardship found that households with children answered "yes" to that question at a much higher rate than households without children, 18.4 percent compared to 14.1 percent. Given our nation's high child poverty rates, this is not a surprise. The data alone, however, only begin to capture how much harm America is causing its children because of the poverty and hunger rates they suffer.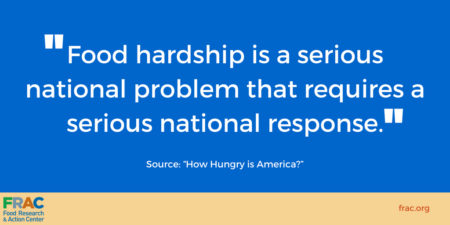 Fortunately, the child nutrition programs provide nutritious meals and snacks to children while they are outside of the home — at schools, at programs operating after school, on weekends, and during the summer, and in child care. These programs can help reduce childhood hunger substantially, and ease some of the struggles that families face in trying to keep hunger at bay.
Yet, many of these programs serve only a fraction of the children who need them. School breakfast serves just over half of the students who rely on free and reduced-price school meals. Afterschool supper reaches just one child for every 20 who rely on school lunch; and summer lunch serves just one child for every seven who participate in free and reduced-price school lunch during the regular school year.
When children are hungry, it negatively impacts their health and learning. They have lower math scores and lower grades; they are more likely to be absent or tardy; they are more likely to be suspended from school and have difficulty getting along with others; and they are more likely to have repeated a grade, received special education services, or mental health counseling. The school meals programs can significantly address all of these problems.
With children returning to school for a new school year, it is important for educators to make increasing participation in school breakfast, school lunch, and afterschool meals and snacks a top priority. Combined, these programs can provide children three meals and a snack each school day. Ensuring that kids receive the healthy meals these programs provide is good for the students and their families.